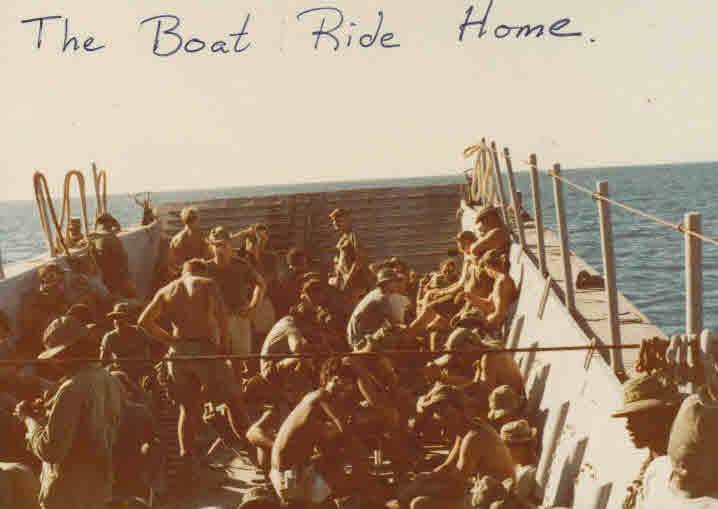 We are but a few of the Survivors of the 1977-1980 Enewetak Atoll Atomic Debris Cleanup Mission in the Marshall Islands. 
Our Original Mission was to relocate and entomb radioactive fallout and debris from the surface of the islands of Enewetak Atoll so the dri-Enewetak Islanders could return to their beautiful homeland of 40 Islands in the Marshall Islands.
We accomplished our Humanitarian Mission in 1980. Currently, some of us have health challenges related to cleaning up radiation produced by 43 atomic bombs tested in the Pacific Proving Grounds during the Cold War's Atomic Test Program.
On May 6th 2014, we started collecting information about our health challenges.
As of November 15th 2015, we have 323 responses to our survey.
264 responded to the question "Do you have any health challenges which may be related to radiation exposure?" 153 said Yes, and 111 said No. The remaining 59 (of the 323) respondents did not reply to the question.
Comments vary from good to bad, but here are how 175 Enewetak Atoll Atomic Cleanup Veterans answered the question: "Comments about your health challenges." Respondent names have been omitted for privacy reasons. And some information has been edited to maintain confidential information.
None known at this time.
None at the present time.
Chronic joint pain and swelling. Severe cramping of large muscles. Causes paralysis while cramping. Occurs mainly in large muscles in legs. Numbness of feet and hands, liver disease (not alcohol related). Prostate problems, UT problems. Mental Health issues: anger management, ADD, inability to commit (flight instinct). He had 38 different jobs, fired only twice, went AWOL for 32 days after returning from Enewetak. It has also effected his personal/social life as he does not connect with people often, not even family members. Will update with more specific information when his medical file is received and his Physician is able to look at it. Please use this info only if and share with whom it is a necessity, He is a very private person and was hesitant about sharing his information, but he wants to help the other men and believes in the group's mission.
Loss of teeth and a stroke.
I currently have Diabetes, Hypertension, Deterioration of Disc in my Spine, Joints are worn in both knees they both need knee replacements (Arthritis) is sitting slowly went to see for Surgery on Spine a High Risk factor so I am on Medical retirement, also having Heart problems carry Nitro pills with me everywhere I go, Bad eye sight and bad hearing starting to set in.
Numerous skin cancers and recently prostate cancer.
Prostate Cancer which turned into bone cancer, cough, and flushing.
Melanoma tumor removed on my left wrist 6 years ago. Doing okay now.
I have a lot of bone and joint issues. I had surgery when I was 32 and the doctor told me that my knees looked like I was in my 50's. I had a cat scan about 3 years ago on my shoulders and collar bone area. The surgeon that I was going to was an old military surgeon. He told me he had never seen anything like it. The disks were just basically gone and my bone spurs were the worst he had seen. He sent me to another specialist. I also have a muscle disease. Plus a couple other things.
Colon Cancer.
Respiratory problems, skin cancers, constant cough.
Severe joint pain and swelling, severe cramping of large muscles, causes temporary paralysis, chronic fatigue, prostate concerns, numbness of feet, mental health issues: anger management.
Bone and joint issues as well as problems with my teeth due to loss of calcium.
Thank the Lord I'm doing well!
Skin condition, hives and swelling. Lung condition, COPD and tumor in left lung.
I have a myriad of health issues that I know are directly related to the island. Gallbladder cancer, bladder cancer, diabetes, heart disease, skin issues, joint issues–all of which have caused emotional, mental issues.
Discoloration on my legs related to radiation.
Kidney transplant patient.
Have the normal aches and pains of age. Had asthma as a child so I don't know if slight breathing problems are from virus's of winter or anything serious from visiting the island for a couple of days.
Started having terrible headaches upon returning to my duty station in the states still have them today thin skin thyroid trouble.
Discoloration in my ankles that doctors say may be related to radiation exposure.
Melanoma.
Enlarged Prostrate Heart Failure Skin Conditions.
Severe bone loss.
When I returned from TDY I was diagnosed with a growth on my right cheek. And a portion of my salivary gland was removed. And this was in 79. I was told by the dr. that it was only a growth. And that was it. But since the operation in 79, my right cheek has been numb and at times I still feel a real sharp pain and don't know why. And the va is investigating by sending me to independent Drs. To evaluate this problem. And I guess that I just have to wait for a decision.
Have some health issues, but not sure if they are related to my time on Enewetak. Doctors believe there could be a possibility.
No health issues as of yet.
Bone and Joint diseases Heart Disease. Liver Problems (Non-alcoholic).
Stage III-C Colon Cancer, Skin rashes (Jungle Rot), PTSD, Sleep issues since leaving Lojwa, Anxiety since leaving Lojwa, Hammer Toes from running in Jump Boots at Ft. Bragg, Teeth started to splinter and crack very soon after leaving Lojwa, All Residuals from Chemotherapy, Knee and Ankle Issues, Nightmares, Claustrophobia, Fear of Crowds, All Three Offspring suffer from disorders that can also be linked to my exposure to Ionizing Radiation.
Breathing issues and Lung problems.
Really not sure if health concerns are Eniwetok related but no cancers to date!
Cancer but doing better now.
Twenty years later my lymph nodes exploded!! in groin started have sleep apnea ,and lower legs neuropathy quad by pass heart condition, body had arthritic sepsis left leg aggressive osteo arthritis in knees and hips and joints at the same time diabetes type 2 with oral and insulin to try to control in 2009 put in wheelchair to present 2014 had i known this was going to do this to my DNA every short of cancer and still waiting for shoe to drop on that! it has just kicked me hard almost lost the battle in 2012 but my wife and kids would not give up on me so i tried to stay active and do valor games!! and paralmypic sports community based and kept going and the VA keeps playing the same tune deny till i croak!!
Multiple heart attacks, multiple hernias, arthritis, and prostate problems.
My health problems are often labeled as "some type of Autoimmune issues yet to be understood." My daughter also has some of the same type gynecological problems experienced by the female children of other Atomic Veterans as well as the islanders themselves.
Melanoma , several spots, some removed 10 yrs after my duty in Enewetak , the keep coming back.. Seem to have copd or something , have bouts of breathing problems.
I have the greatest pair of Lojwa socks. I have just had Aortic Valve replacement surgery. My cardiologist and surgeon stated that the condition of the valve is "more likely that not" due to exposure to radiation.
Diagnosed with having Diabetes.
I wonder if some of my health problems are because of our trip there. My breathing problems are my biggest problem. While playing softball I had a mishap and slid off of a base and scraped the skin off of one of my legs the size of a Texas softball. We were told that while playing there was to be no sliding because of possible radiation in the soil. For a week I was not allowed to do any of my normal work. I had a scab a quarter inch thick and green in color where I scraped up my leg. I sat in A gangs work area with my foot in a bucket of water and used a sponge to run the water over the scab for a week. There is nothing in my record because on board ship the corpsmen did not keep any records.
Had to have my left lung removed because of cancer having kidney problems, heart problem, Lupus.
Migraines and severe sinusitis that ultimately resulted in 4 sinus surgery's and an ongoing regiment of drugs and nasal cleanses that keep me for the most part healthy.
Unknown.
Rather not say at this juncture.
Unknown.
I have a paralyzed right hemi diaphragm of the lung since 1993
I have Coronary Artery Disease, Diabetes, Osteo Arthritis (both knees).
Cancer, arthritis, skin rashes, neck problems.
NONE.
Dermatology issues.
Had a heart attack and a bypass surgery in January 2005, which was linked to the high blood pressure which was service connected. Been informed by eye doctor that I have cataract developing not sure if that may be related to the radiation exposure.
Hearing loss and skin cancer.
Hyperthyroidism, Hypoglycemia, memory loss.
When I was on Enewetak I was burnt by gasoline and med. out to Hawaii for the burn unit. After treatment I was returned to state side to D Company 46th Engr Bn at Fort McCellan, AL. I have pictures of Lojwa and the surrounding areas and enjoyed the water and the beauty of Enewetak, and will remember for ever.
Severe spinal arthritis, Crohns disease, fertility.
Was there. I'm alive.
COPD / abdominal aneurysm repaired Oct 3, 12 another near the heart they won't do that one because of the copd. health care I use at present is Medicare and Tri Care for life.
Sleep Apnea Allergic Rhinitis Hay fever Folliculities & Dermatitis.
Bad arthritis, joint pain, loss of muscle tone, skin cancer most on the upper body and the head area.very sensitive lips from getting burnt while walking on the reef on Runit. short term memory loss. Note all my problems started about 10 years after leaving enewetak,except for my lips. that was an on going problem since i left enewetak. i have to limit time in the sun and wear a protective cream to keep them from getting sun burn and blistering.
I have many stomach and intestinal issues that I feel are probably related to this issue. I also have a lot of joint pain and have for several years. Also, concerns with the health of my 2 youngest children born after my tour in Eniwetok. My daughter has serious intestinal problems that are caused at childbirth. My youngest son has several serious issues to include loss of eye site in one eye.
Joint problems Allergies heart problems.
Diabetic, can't have kids.
I do not know whether my daily nose bleeds and sinus/allergy issues are a result of things that may have been inhaled there of while I was participating in the redeployment phase of Operation Desert Shield/Desert Storm. Personally, I do not l know what are or will be the long term affects that my tenure of service may have on my health but I do know that I do suffer from shortness of breath and must utilize an inhaler and allergy medicine as a part of my daily regiment to help me to breathe properly. However, I would like to make this an official part of my personal medical history since I was assigned to the Marshal Islands, Enewetak Atoll, Joint Task Group, Field Defense Nuclear Agency Workforce from December 1978 through October 1979; and Southwest Asia, in Dhahran, Saudi Arabia from September – December 1991.
Undergoing cancer treatment VA Long Beach.
Colon cancer 1995.
The VA has already acknowledged my health problems as being from exposure to Agent Orange in Vietnam. I am already rated at 100% disability for Multiple Myeloma and 20% disability for Type II Diabetes. I'm not doing this for my health problems but to be another voice concerning this issue.
EVERYTHING FROM BEING CONFINED TO A WHEELCHAIR FROM LOWER BODY NEUORAPTHY HIPS, KNEES, FEET AND AGGRESSIVE ARTHRITIS AND OSTEOARTHRITIS ALL OVER BODY SLEEP APNEA OPEN HEART QUAD BYPASS SURGERY, MASSIVE POTASSIUM LEVELS AND LIVER PROBLEMS.
I may or may not…can't say.
None to date so far.
Benign bone tumors in rib cage, spinal cord and skull.
I have a pituitary adenoma. Had an aortic dissection, copd, hbp. Vision problems.
Nothing I am aware of.
Renal cancer ~5 years after, suspected this as cause (no family history or other reason known, and surgeon said by doubling factor very likely due to this considering tumor size). Also memory issues, cannot rule this out as contributory factor. Coincidentally, the Army ran the radiation exposure program, and although I turned in my badges, they say they have no record of me, also contacted Defense Nuclear Agency and they also denied I was there…
Thyroid issues, glandular problems.
None.
I am diabetic, Chronic high blood pressure, high cholesterol and high triglyceride's. I don't know if it is related or not.
Cancer.
Not at this time.
Lung problem, gout and liver problem.
Cancer and bone joint damage.
Arthritis.
Seeking presumptive review of spine, bone, and esophageal issues as a result of service. Had two cysts removed from my are in 1979, Tripler Army Medical Center from my year on the island.
Skin cancers.
None that I know of. but I've never been checked either.
Got type 1 diabetes a few years after leaving, last couple of years have lost all energy just want to sleep all the time.
Been trying to get proof that I was there for 15 years now…they cant find the paper work. All I have is a piece of paper that has my name on it with a picture of the islands and other stuff
Losing hair headaches etc.
Congestive heart failure.
I've gotten type 2 diabetis and also being treated for high blood pressure and arthritis.
Brother in law who served with me during the cleanup got cancer about 2 yrs after returning home.
Rod died of kidney and renal cell cancer several years ago. He was my ex-husband. I am adding his name to this roster to record his involvement and service to the military that ultimately killed him due to the radiation exposure he suffered.
Unexplained seizures, Unexplained Aortic spasms. 3 unexplained TIA Strokes, degenerative spine disease. Migraines that began after I served. Radiation sickness 4 times.
Got type 1 diabetes three years after after tour, loss of energy down at times waiting for whatever is going to happen.
I am not sure if the challenges are related to Enewetak.
HE HAD HEART ISSUES AND SUFFERED A HEART ATTACK IN 1986, HE ALSO HAD A QUADRUPLE BYPASS IN 1993 AND CATASTROPHIC HEART ATTACK IN 2004. I AM HIS SON AND HAVE LITTLE TO NO INFO ON HIS MILITARY SERVICE. I MYSELF AM A SOLDIER AND WOULD VERY MUCH LIKE TO FIND OUT MORE ABOUT HIS LIFE. PLEASE HELP.
Congestive Heart Failure.
Been dealing with muscle aches, cramping and diabetes.
Thyroid problem.
Severe spinal and joint problems.
Brain tumor, Epilepsy, Seizure disorder, dental problems.
Sterile.
Maybe? Hypothyroidism.
Had lung cancer, they had to remove my left lung . Then two year later I was told I had lupus.I all so have failing kidneys. They have me on 2,160 mg Myforic. It's a kidney drug.
Bad memories, arthritis both shoulders and neck.
Had numerous carcinoma cell removed from hands and carcinoma and basil cells removed from face.
Cataracts.
High red cell count . Thyroid lump remove. coaxle polyp sinus cavity Caldwell luc procedure most common area of coaxle polyp Marshall Islands with a 2 percent occurrence world wide.
Arthritis, joint pain, thyroid, possible breast cancer.
N/A.
I was diagnosed with a couple of different things. One was retinal degeneration and this was many years ago soon after returning from the rock. Also a rash that seemed to linger for along time. my doc said it was from constant immersion in salt water and sunburns.
No challenges at this time.
Diabetes, hypertension, heart and stroke problems.
Fatigue and Post traumatic stress.
I was diagnosed with Acute Myolitic Leukemia in 2011. Received Stem Cell Transplant (formerly called bone marrow transplant) in 2011.
I have a few health issues but nothing that can be specifically linked to radiation exposure. I've completed my enrollment in the VA health system using my Vietnam Agent Orange exposure and my Enewetak radiation exposure. I was given a battery of test as part of enrolling me in the Agent Orange/Radiation Exposure Registries. I have a doctor's appoint in Sept 2014. The results of the tests were consistent with tests I've had with my primary physician. I'm retired from the military and covered under TRICARE.
Just getting old.
Yes thyroid problems and pain.
I have breast cancer and Lymph nodes cancer on my left side Still waiting on other test results. Have had surgery to remove left breast and Lymph Nodes.
Deg. bone disease.
Had spinal cord tumor.
Have a lot headaches and a lump on my back for a few years now.
N/A.
Private.
Since returning I have remained fairly healthy up until I was 35 yrs old. That is when I had my first "cardiac event" (showing all the signs of a heart attack but no damage detected) at 44 yrs old I had a 2nd with the same results. Over the last 10 years I been diagnosed with an unstable angina, heart murmur, type II diabetes and just 2 yrs ago I had a massive asthma attack (having never had asthma before). I have also had (and continue to have) skin issues (that doctors can not explain) and general aches and pains in most of my joints. Since finding others that were on the Atoll, all the pieces are coming together. All these aliments could be related to my exposure to radiation.
Skin cancer(s).
Have none at present.
Recently diagnosed with Hairy Cell Leukemia. Probable cause high exposure to radiation.
I have Osteoporosis, pain in all my joints, Lymphomas.
Cellular cancer.
Respiratory and bone problems.
Acute Random Urticaria with large blisters Diabetes type 2.
3 masses removed from my neck. Keep coming back. pre-cancers on my skin. Always have to have them remove. polyps remove in my colon. Get my colon checked frequently Diabetes Scar tissue in my right eye cataract removal in both eyes.
I have had a weird rash on my body since I was there, I have had declining health conditions since being on the islands. I would really like to know what all those shots were that they gave us on Enewetak when we got off the C130. They never got entered into my shot records.
Skin cancer and prostate cancer.
Had cancer surgery almost ten years ago cancer in a lymph node in my neck thank god clean today.
I HAVE HAD LUNG SURGERY, AND A PORTION OF MY LUNG WAS REMOVED.
Lost a my left lung to cancer . Lupus and kidney failure.
Long history of sinusitis, insomnia. Major breathing issues and cough. Fatigue, anger issues, memory issues. Enlarged prostrate.
Currently I have a brain tumor hypothyroidism enlarged prostate high cholesterol high blood pressure diabetic and an aortic aneurysm and I have already had an emergency aortic dissection.
Paralyzed right lung.
No problems so far.
At the age of 26 I started having issues with my legs. I was diagnosed with Peripheral Arterial Disease. Also several breathing issues, Heart Disease with Bypass surgery at 36 years old.
I have continuous pain in my legs, arms and hands. I have had numerous growths removed from my neck. I now have more growths on my body. I am diabetic and sometimes have problems breathing.
Private at this time. Being treated through VA.
Aching joints, had back surgery 20 yeas ago and at time my doctor told me I had the bones of a 70 year old, I was 34 now 55.
Not sure, working with Civilian Doctor about some issues.
1983 sent to Walter Reid Medical Ctr. Due to elevated CPK levels, Doctors concerned about my kidney function. 1985 started showing symptoms of Diabetes. 1989 diagnosed with type 2 Diabetes. 2006 parathyroid partially removed. 2007 diagnosed with chronic kidney disease. 2013 kidneys failed.Now on Dialysis. 2014 Diagnosed with prostrate Cancer.
Excessive skin cancers, half nose removed major reconstruction. Prostrate cancer 1 year ago.
Skin Rashes and Lesions, Parkinson's, Tinnitus.
Skin challenges.
Sleep Apnea and Psoriasis, Dermatitis and folliculities.
I have a recurring sore at my boot line that has me wondering. In formation we were told high levels were being detected on film badges & dosimeters but not who had the high levels. I would like to know what my exposure rate was while I was there.
Radiation burns, unknown rashes,blistering, PTSD, Bone and Joint issues, Hypertension, Late stage colon cancer, low sperm count, and too many others to list. Offspring also suffer from illnesses and defects attributed to a parent exposed to Ionizing Radiation. 43 additional residuals in total.
Lung cancer in 95/ head and neck cancer in 2010 /joint problems many more problems.
So far I have very few health issues, except those that come with age. I do want my part of the Enewetak Atoll Clean Up Project documented. If I have future health issues, it will be documented.
Not that I know of.
None so far.
Kennedy trouble and skin problems.
At this time I have no obvious health challenges.
I am in relatively good health at this point.
I've had multiple skin lesions and cancers removed from my body. I'm now diabetic and no one in my family is or was diabetic. I have multiple spots on my lungs, liver and spleen and they tell me this could have came from where I was raised in Tennessee. I believe the military doctors call it Granulomas. Not sure about the spelling.
Early onset of glaucoma and blood now makes to many platelets causing feet and hands to tingle and itch, skin lesions to routinely show up on lower back and lower back pain.
Spot on lung being monitored by VA Togus, Unusual liver function test results, triple heart bypass (maybe), hearing problems.
Back injuries occurred while stationed at Enewetak Atoll.
Cancer.
Prostate Cancer.
UNKNOWN THYROID CONDITION.
Too numerous to go into.
As you can see from our roster survey, not all, but many of our Atomic Cleanup Veterans are experiencing serious health challenges.
We appreciate the relatives who shared information concerning the deaths of some of our Atomic Cleanup Veterans.
We also salute each and every Atomic Cleanup Veteran who helped us get a clearer view of our typical health challenges.
Please let your Federal Representatives know you want them to support Hawaii's Rep. Mark Takai's Bill H.R. 3870 Atomic Veterans Healthcare Parity Act.
Continue to learn more about us from various resources shared by supporters and cleanup participants in future AtomicCleanupVets.com articles. Our articles contain photographs, videos, documents and stories shared by the actual participants who cleaned radioactive contaminated soils and materials from the surface of the islands at Enewetak Atoll.
Article written by Girard Frank Bolton, III. 1977-1979 (14 month) participant with C Company and HHC S-3 (Operations) 84th Engineer Battalion (Combat Heavy) (Fwd) Enewetak Atoll, Marshall Islands.

Our Current Mission is to help health challenged Atomic Cleanup Veterans become included in the Veterans Administration's definition of an Atomic Veteran so we can qualify to apply for funds set aside for veterans "who participated in radiation-risk activities during active service."