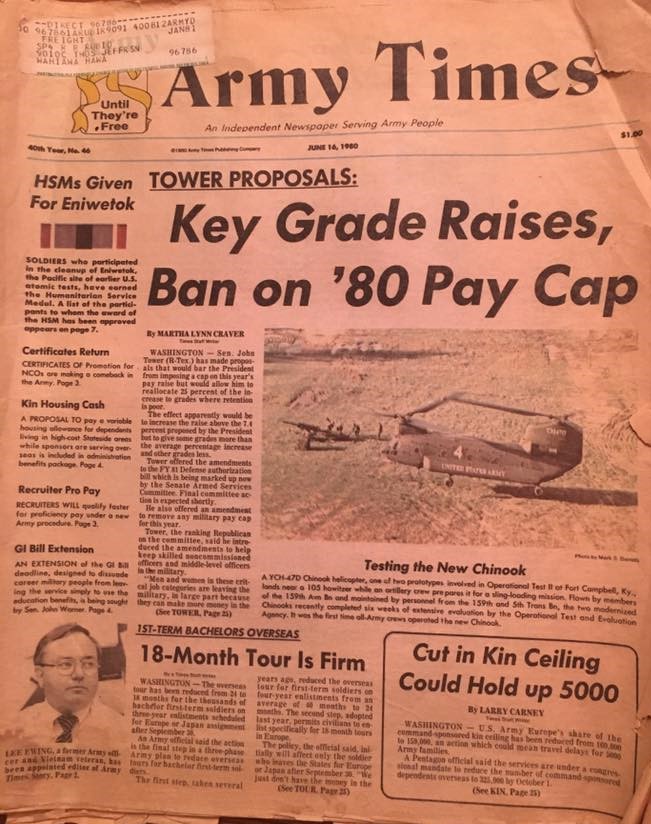 We are but a few of the Survivors of the 1977-1980 Enewetak Atoll Atomic Debris Cleanup Mission in the Marshall Islands. 
Our Original Mission was to relocate and entomb radioactive fallout and debris from the surface of the islands of Enewetak Atoll so the dri-Enewetak Islanders could return to their beautiful homeland of 40 Islands in the Marshall Islands.
We accomplished our Humanitarian Mission in 1980. Some of us have health challenges related to cleaning up radiation produced by 43 atomic bombs tested in the Pacific Proving Grounds during the Cold War's Atomic Test Program. Some of us have died.
Times Staff Writer Don Hurst's June 16 1980 article headline read: "MORE THAN 3,000 ELIGIBLE – HSM Awarded for Eniwetok Cleanup"
Here is a reprint of his article retyped word-for-word including the old spelling of Enewetak (Eniwetok):
"Alexandria Va. – More than 3,000 soldiers are eligible to receive the Humanitarian Service Medal for their participation in the cleanup operation on Eniwetok Atoll, the Pacific site of earlier U.S. atomic tests.
Military Personnel Center officials said the following lists should contain the names of all soldiers who qualify for the HSM for the Eniwetok operation.
The Defense Nuclear Agency was responsible for the cleanup and was the agency that approved award of the HSM to all participants. Soldiers who have questions concerning their eligibility for the medal for that operation should address their inquiries through command channels to: Hq, Defense Nuclear Agency, Washington, D.C. 20305.
Criteria for the HSM for the Eniwetok operation include direct, meritorious participation for at least 24 continuous hours between Jan. 24, 1977, and April 15, 1980, the official end of the cleanup. The following list contains a separate section showing soldiers, assigned to DNA in most cases, who are eligible for the HSM."
[gfb3 note: The list on this web page is a combined alphabetized list of 2,696 Army personnel approved to receive the Humanitarian Medal. Unless noted otherwise, Army personnel listed are assumed to be assigned or attached to the 84th Engineer Battalion. Army personnel assigned to the Defense Nuclear Agency are noted with "DNA" behind their names. Name spelling corrections will be noted in brakets.]
"Names of the Army people to receive the HSM for Eniwetok are:"
Abbaticcho Thomas D
Abbott James T
Abelon Albert P
Abraham James W
Abraham Willie T
Acevedo Jorge I
Acfalle Anthony
Ackley Mark A
Acosta Edmundo J
Adami Amil N
Adams Brian H
Adams Charles L
Adams Edward E
Adams Houston H
Adams Larrie D
Adams Ronald R
Adams William L
Adcock Bobby R
Adolph Gary
Agnew Gary L
Agpaoa Homer R
Aguilar Jose M
Aguon David I
Ahern James E
Aiguier James L
Aker Edward C
Akers Donell J
Akers Richard D
Aki Manuel K
Akuna Patrick K
Albert William
Albright Kenneth F – DNA
Alcanter Angel
Ale Thomas E
Alexander Daniel S
Alexander Dennis W
Alexander George
Alexander Ralph E
Alford Fredrick
Alford Michael G
Allen Marlin K
Allen Micheal S
Allen Robert A
Altier Alex
Alvarado Joe M
Amaral John V
Anders Charles J
Anderson Andero
Anderson Candy – DNA
Anderson Gerald T
Anderson Keith M
Anderson Marcus
Anderson Ralph
Anderson Steven L
Anderson Steven M
Andrews Billy R
Andrews George M – DNA
Andrews Jerry D
Andrews John H – DNA
Androl James E
Anglin Stophen P
Anton Richard A
Aola George H
Apo Douglas K
Aponte Manuel
Applebee Steven J – DNA
Applegate Stephen A
Appling William A
Arbogast Micheal S
Argento Christophe
Arhur Earl L – DNA
Armitage Jim R
Armstead Tony D
Armstrong Robert P
Armstrong Wilbert D
Arnell Donald
Arredondo Raul C
Arrindell Jaison
Arvizu Richard A
Asbury James B Jr
Ash Robert L
Ash Samuel B
Ashburn Charles B
Atkinson Phillip M
Atwell Thomas G
Auriemma Albert A
Avila Lorenzo D
Aytch Earnest J
Babcock Richard L
Bacote Robert R – DNA
Baeb David – DNA
Baenen John J
Baidwin Thomas E
Bailey Clay A
Bailey E J
Bailey Kennth B
Bailey Larry D
Bailey Robert A
Bailey Vincent H
Bain Richard M
Bainbridge William G – DNA
Baity Barry S
Baken Paul
Baker David W
Baker Donald C
Baker Eric A
Baker James O
Baker Robert V
Baker Thomas L
Bales Randall J
Balladeo Edgardo E
Ballard Robert L
Bally Frank J
Banayat Peter A
Bandel Raymond L – DNA
Barber David L
Barber Preston W – DNA
Barbour Charles L
Barckely Michael I
Barker Charles W
Barlett Kevin B
Barnard Raymond G
Barnes Darrel P
Barnes Michael L
Barnett David L
Barnett Harlan T
Barnhart Dane J Jr
Barnstable David P
Barone Ercole M – DNA
Barrall Robert J
Barrera Rufus
Barrett Richard J
Barron James J
Barron Larry R
Barron Thomas R
Barron William G
Barth Garry R – DNA
Bartlebaugh Gary A
Bartolome George M – DNA
Barton Alan P
Baskins Leland L
Bass Keith R
Bast Peter H
Bates Jr Robert E
Bates Robert M
Bates Vern F
Batts Ronald D
Batzel Kenneth F
Bauchspies Robert W – DNA
Baudendistel Jeffrey
Baugh Leon
Bautista Raymond E
Beacon Joseph W
Beagle Clifford A
Beam Thomas C
Bean Jeffrey D
Beard Mark R
Beck Allen N
Becker David S
Begley Michael E
Begtrup Robert O
Behrens Jon S
Beil Raymond G
Beiter Richard H – DNA
Bell Thomas A
Bellamy James A
Belong Zaldy D
Beltran Raymond D
Benckendorf Scott
Benjamin Michael A
Bennett Bernard T – DNA
Bennett Lawrence E
Bennett Paul H
Bennick Earl D
Benoit Edward F
Berestecky Robert L
Bergeron Joseph
Bergevin Ford B
Bergof Joseph F
Bergstrom Douglas C
Bermudez Joseph
Bernier Berton
Berrigan Donald W
Berrios Rafael
Berry David W
Berry Jerry L
Berry Kenneth L
Bertagnoli John R
Bertrand Kenneth W
Berzley Jack H
Bethea William C
Bethman Robert
Betts Donald J
Beyer Gary L
Beynon Raymond L
Bifulco Frank P
Billue Charles
Birch Arthur H
Birchfield Walter D
Bird Chris
Birdsong John W
Birtcil Robert A
Bishop Duane D
Bishop Gary P
Bishop Gregory M
Black Norman
Blackburn John L Jr
Blackwell John R
Blake Benjamin J
Blake Michael W
Blake Stephen D
Blakeman Rodney D
Bland Richard Jr
Bland Thomas M
Blas Edward J
Blewster James C
Blom Rick M
Blosser Roy E
Blount Nathaniel
Blunt Everett
Boach Figueroa
Boardman John S
Bober Arthur H – DNA
Bochinski David J
Bodkin Barry L
Bodnar James D
Boice Edward Jr
Bolduc Kenneth R
Bolton Girard F
Bombard David
Bonawitz Bernard J
Bonds Edward
Bone James A
Bonilla Victor M
Bonneau Stephen D
Bonnett Orbie F
Boortz Geraid L
Booten Patrick
Bootle Doyle
Boraca Yuji
Boren Richard M
Bores Paul A
Borneo Anthony D
Borras Arleen A
Borrello Ronald A
Bosma Phillip H
Boudreaux Gregory J
Bourne Robert L
Bovee Marshall C
Bowman Andrew K
Bowyer Ralph E – DNA
Boyd Eullis
Boyd James R – DNA
Boyd Jerry L
Boyd Michael L
Boyd Odeville
Boyer Ralph E Jr
Boyer William R
Boyette Lee H
Boyle Martin A
Boyman Brain J
Bradbury Mark R
Bradshaw Milton
Brand Robert E
Branson William W
Brantley Randy E
Brasch Thomas A
Bravo Benjamin V
Brawdy Roy J
Brayan Ramon A
Bresell Ronald R – DNA
Breslin Frederick – DNA
Breslin Micheal V
Brett Frank – DNA
Brewer Jesse C
Brewer Robert G
Brewer Thomas K
Brewington Ernest
Bridge Steven A
Bridges Jimmy E
Briggs Joseph – DNA
Briggs Maurice R
Briggs Thomas M
Briscoe Lee H
Bristol Glen
Britt Kenneth D – DNA
Britton Johnny L – DNA
Britton Lee E
Britz Albert R
Brock Roy L
Brons Russell C
Brooks Jerry L
Brooks Linwood L
Brooks Ronald L
Brorson Greg W
Brorwn Charles
Brothers James A
Brothers Mark W
Browder Roy L
Brown Albert
Brown Andrew M
Brown Chris
Brown Darren R
Brown David A
Brown Dennis A
Brown Douglas – DNA
Brown Frank E
Brown Gary L
Brown James A
Brown James E
Brown Jerome R
Brown K L – DNA
Brown Kenneth Jr
Brown Mark R
Brown Maurice D
Brown Michael T
Brown Morris
Brown Nathaniel
Brown Phillip A
Brown Richard F
Brown Ronald R
Brown Steven K
Brown Steven W
Brown Willie C
Brownell Kenneth A
Brule Michael A
Bruno Victor Jr
Brunton Robert E
Bryan Johnny D
Bryant George T
Bryant Kenneth E
Bryant Maurice Jr
Bryant Thomas E
Bryant Tyrone
Bryson Jack M – DNA
Buchanan Richard L
Buck Larry J
Buelna Daniel A
Bufford Kenneth W
Bundy Kelly W
Bunn Larry A
Bunting Tony D
Buotte Thomas P
Burch Freddie Jr
Burcham Charles L
Burgess Walter D
Burghardt David L
Burke John E
Burkhardt Thomas E
Burnett Carl M
Burns Robert E
Burns Roger D
Burns Timothy W
Burnside Boyce
Burriel Jose S
Busch Richard F ll – DNA
Busck Albert – DNA
Bush David A
Bushover Gary E
Bussey Gary E
Bussey James O
Buswell Arthur T – DNA
Butcher Oliver E
Butcher Oliver T
Butler Chester M
Butler Eduardo V
Butler Iganatius W – DNA
Butler John H
Butner Robert K
Butt Lee J
Butterfield Bryan K
Button John M
Butts David L
Butts John O
Buyatt Mark C
Buziak William R
Buzzard James E
Byers Ames N
Bynes Johnnie Jr
Byrd Nezzar P
Cabarrus Jeffery
Cabera Enrigue
Cafaro Daniel N
Cain Harold T
Cain Morton G
Cain Robert A
Calamita Dennis M
Call Terry G
Calloway Richard T
Calmes James G
Calvey John M – DNA
Campbell Albert J – DNA
Campbell Earl D
Campbell Harold T
Campbell Molvin W
Cannon Isaac
Cantrell Darrell W
Cantu Gilberto
Caples Larry J
Cardinal Bruce F
Cardona Paul V
Cardone Carl T
Careaga David M
Carey John F
Caris John R
Carison Paul
Carman James E Jr
Carmoay Daniel R
Carney Carl A
Carpenter Chris
Carpenter John C
Carpenter Lamar
Carpentier Darell E
Carpo Paul F
Carr Kenneth R
Carr Kevin A
Carr Rodney G
Carrera Carlos J
Carrera Rodney G
Carrig George M
Carroll Roy E
Carson Ernest
Cartagena Malave C
Carter Alfred A – DNA
Carter James C
Carter Keith
Carter Keith E
Carter Mitcheal G
Carter William G
Cartwright Philip P
Case George W – DNA
Casey Leonard L
Cashen Chris L
Casill James P
Cassel Craig S
Castle Arthur J
Castle Jack R
Castro Angel J
Cataldo Joseph E
Cathey Edward J
Caves John T Jr
Celestial Robert N
Cerge Lawrenc
Cervantes Ricardo E
Chadwell Michael G
Chadwick Richard T
Chalmers James J
Chambers Martin Jr
Chandler Donald J
Chandler Harry T
Chaney Johnny L
Chant Robert J – DNA
Charfauros Michael R
Chargois Edward L
Charity Donald D
Charles Revnold
Charm Jack
Chastain James R
Chavez Joseph
Chechele Michael L
Cherrix Gary
Cherry Robert N – DNA
Chesnak John R
Chessher Davis E
Chest David J
Chevis Ivory Jr
Chew Joseph D
Childers Michael
Chinen Paul – DNA
Chisholm Roderick A
Choate David L
Christianson Gary A
Chumley Mike L
Chun Terence J
Church Greg K
Cisroros Daniel J
Claiberne Kenneth J
Clair Donald A
Clair Jerry S
Clark David
Clark Davis – DNA
Clark Dorrance E
Clark Larry D
Clark Lee H
Clark Leoliver
Clark Norman L
Clark Ronnie L
Clark Timothy D
Clatterbuck John A
Clayton Douglas W
Claytor Justin A
Cleator John D
Cleghorn Dennis G
Clem James E
Clement Richard E
Clements Roger N
Clift Rolland B
Clifton Donald L
Clinton Timothy Q
Cloutier Philip N
Coates Larry J
Cobey Michael
Cochran Steven A
Coco Pedro
Coffman Raymond J
Cole Richard L
Colegrove James F
Coleman Donald S
Coleman Louis
Coles Dana E
Coley Otha L
Colin Y Alfred
Collins Danny
Collins Michael J
Collins Walter
Collo Lloyd G Jr – DNA
Colon Jose A
Colquitt Joe
Colthart Thomas M
Combs Thomas W
Commander Frank
Concelman Timothy F
Concepcion Augustine
Conger John W
Coning Eldon C
Connelly Raymond
Connelly William A
Conners Bradley
Connor Paul L
Conrad Gary E
Conrad Ralph R
Conroy Charles A
Conroy Edward F
Conroy Michael – DNA
Contemprato Roberto
Contratto Robert E
Cook Anthony
Cook Bille R – DNA
Cook John D
Cook Rodney L
Cook William R
Cooper Jonathan – DNA
Cooper Michael A
Cooper Michael D
Coppernoll Matthew A
Corbett Woodrow
Cormier John J
Cornell Burton B
Cornett Hershel W
Corrigan William P
Corris Michael S
Cosby Milton L
Cosgrove William C – DNA
Cote Alan R
Cote Gerard A
Cotton John W
Cottrill Charles G
Couch James D
Coulombe Marc P
Courtney Mark W
Covar Charles E
Cove Antonio E
Cox Charles B
Cox Dale L
Cox Harold E
Coyne Clinton F
Cozzlino Charles W
Crabtree David D
Cramer Gregory R
Cratty Mark A
Cravener John C
Cravens Danal L
Crawford Douglas M – DNA
Crawford Garnett
Crawford Michael E
Cressell Arnold E
Crews Alton E
Crisman Bernard
Crockett Brian D
Cross Richard G
Croteau Ronald P
Crounse Frank E
Crowe Robert T
Cruise Darrell E
Cruz Juan A
Cuadra Gregory J
Cuadrado Velazquez
Cuffee Richard
Culbertson Randal J
Culpepper Bobby R
Cummings Henry
Cummings Phillip A
Cummings Richard D
Cunningham Willie Jr
Cupps Timothy M
Curles Lawrence J
Curnett Alan R
Curtis David L
Custer Eric L
Custer Russell J
Cutlip Stanley E
Czarnecki Victor J
D'Amico Gregory A
Dager Michael V
Daily Curtis E
Daily John F
Dalla Jimmy R
Damuth Dennis L
Daniel Harry B
Daniels Jere A – DNA
Daniels Jesse L
Daniels Theodore G
Danley Danny
Danza Lawrence
Darby Johnny
Darby Nathan
Darienzo Carl P
Darvey Richard F
Daugherty James D
Dauncey Larry F
David Robert E
Davidson Thomas E
Davila Jose
Davis Bobbie
Davis Carlton
Davis Danna L
Davis Donald R
Davis Ernet T
Davis George D
Davis Jacob
Davis Jay M
Davis John
Davis Juan F
Davis Richard E
Davis Richard F
Davisd Thomas A
Dawson James J
Day Charles E – DNA
Day Harold J
Deagon Brian L – DNA
Dean Jeffery A
Dean Julia A – DNA
Dean Scott E
Deardorff Johnny R
Deaton Ervin
Deavila Jerry J
DeCena Larry F
DeDijer Peter A
Deemer Ivin R
Degeneffe Delano E – DNA
DeGraff Howard A
DeJaegher Robert M
DeJesus Antonio J
Deka David J
Del Castillo Emillio
Dela Cruz Guillermo
Delacruz Ramon B
Delacruz Wilfred G
DeLaire Victor
Deleon Luis E
Delevega Edward R – DNA
Delgado Victor
Delvalle Ismael Jr
Demers Charles F
DeMill Rickey D
Deninger Micheal W
Denning David B
Denny John W Jr
DeNoyer Donald K
Derricott Robert L
Deschryuer James E
Desilets Serge
Desjardins William P
Devault Joseph W
Devereux Roy L
Devers Jimmy J
Devis Thomas W
Dew Eddie J
Dewall David A
Di Filippo Julio L
Dibble John E
Dick Frederick
Dickinson Don M – DNA
Dickinson Jeffrey A
Diggs Wendell K
Digrazia John E Jr – DNA
Dillon James H
Dimerson Lenny R
Dishaw James D
Dittman William A
Diveley Edward L
Dixon Donald W
Dixon Herbert E
Dobesh Robert E
Dodd David J
Dodd Edwin N – DNA
Dodson Kelcy M
Doherty Richard E
Doiron Gerald F
Doly Charles W
Domingue Harold R
Donahue Michael D
Donald Steven K
Donovan Edward W
Dooley Carleton S
Dorn Ronald H
Dorsey John L
Dorsey Robert
Doss Ronald L
Dossche Daniel J
Douglas Arthus L
Douglas Eddie H
Dowd Kerry S
Drago James W
Drapala Edward J
Drennan Robert D
Drury Jenkins P
Dubose Ishmun D
Dubose Michael E
Dubuc Scott
Duckenfield John S
Ducote Aaron J
Duenas Alfredo
Duffy David
Dumond Edward W
Dunbar Richard D
Duncan George M
Dungca Walter V
Dunlap Howard E
Dunn Earl V
Dunn Tom A
Durel Donald E
Duren Kinzy D Jr
Duzan Brad M
Dyer Richard J
Dymond Roy V
Eary George D
Easterly Lester P – DNA
Eastin Ivan
Eastman John C
Easton George W
Ebert Kenneth P
Eberts Randall G
Ebisu Kenneth T
Eby Clifford J
Edwards Audie S
Edwards James B – DNA
Edwards Robert K
Ehlenbach Thomas M
Ehmke Rick L
Elde Stephen E
Elder Robert P
Elliott Joseph M
Elliott Reginald D
Ellis Gerald L
Ellis John
Ellis Kim J
Elzy Karl R
Engel Scott G
English Sammy L
Enriquez Cesar P
Enriquez Henry
Epps Litton B
Erickson Albert J – DNA
Erickson Richard J – DNA
Ernzen James J
Esancy Frank J Jr
Esco Hugh R Jr – DNA
Eskey Michael J
Essia John D
Esta Melecio
Estes James H
Etsell Stephen C
Evans Alfozo L
Evans Charles J
Evans Joseph C
Evans Marvin
Evans Nelson W
Evans Peter W
Evans Richard T
Evans Richie
Everett Wayne L
Everhart Robert J
Evers Dale J
Evers Kimberly C
Everson Mark A
Faagau Mati A
Faaituala Saifoloi
Fafard George
Faleafine Komiko
Fanelli Frank F
Farfan Agustin S
Farr Stephen J
Faulkner Frank
Faust Meade A
Faust Ronald C
Fawson Dennis
Fedraw Ronald H
Fehrenback Richard H
Felix Edward L
Fell John
Fellows Mark V
Fenwick Raymond T
Ferguson Kenneth W – DNA
Ferguson King I
Fernandez Alvin
Fernandez Francisco
Ferrer Israel
Fetui Faaaoga A
Field Ronald L
Field Steve A
Finister Charles L
Finlay Danny P – DNA
Fischer Edward
Fishburne James
Fisher Isaiah Jr
Fleming Dale G
Fleming Edward S
Fleming Ronald D
Fletcher Thomas E
Flick Bette A – DNA
Flint Randolph A – DNA
Flores Bacilio G
Flores John P
Florina Demetrio
Flowers Sam Jr
Foland James M
Folk James B
Folmar Willie C
Fonville Edward L
Forbes Alfred
Forbes Keith
Ford Charles E – DNA
Ford Dennis
Ford Richard P
Forrest William A
Forrestes John W – DNA
Fosdick Walter L
Foster Anthony W
Foster Craig W – DNA
Foster Larry
Foster Michael L
Foster Michael R
Foster Richard C
Fotovich Lawrence A
Foulk William C
Foutch Virgil J
Fowler Marc T
Fowler Robben T
Fox McCuen
Fox Robert A
Foxworth Raymond S
Frager John W
Frakes Hoy E
Franco Antonio M
Frank David
Franks Simuel M
Frase Bruce W
Fraser Thomas H
Frazee Edward L
Frazier Danny R
Frazier Robert L
Freeman Albert S
Freeman Charles H
Fregoe Gregory C
Frezell Thomas L
Friday Kenneth L
Fritz John S
Frost Carl J
Fruhwirth Michael J
Fryson Sylvestere
Fujiyoshi Yoshinobu
Fuller Eugene C
Funk Charles W
Fura Christop P
Galima Randy A
Gall William
Gallagher James L
Gallagher William
Gallerane Mark G
Gallets Stephen M
Galligan Kevin T
Gamin Jesse
Gange Thomas R
Gannon James F
Garber James R
Garcia Fernanado
Garcia Jesus J
Garner Gerald G – DNA
Garrett Michael
Garrett Steven D
Garrity Michael D
Garwood Timothy
Garza Abel
Gauff Keith W
Gauthier Phillip P
Gauttier Gregory G
Gearhart Brian K
Gehring Carl H
Gennett Jeffrey J
Gentry Kenneth
George Joseph L
Gerity Michael
Gettier Albert F
Geyer Thomas H
Gholson Ronnie W – DNA
Giacone Harry J
Giammarco John
Gibbs Jack C
Gibbs Richard
Gilbert Ralph D
Gillins Morris E
Gillman David M
Gilmore Hugh A
Gilmore Paul B
Gilpatric Russell E
Girardin Normand R
Givens Aaron
Gleason Gordon S
Glenister Frederick
Godfery Robert B
Godines Homero
Goff Ernest S
Goins Don E
Golat William F
Goley Henry L
Gomes Anthony
Gomez Robert D
Gonsales Robert
Gonzales Michael A
Goode Melvin A – DNA
Goodine Charles V
Goodley Preston
Goodman Kenneth
Goodman Mark
Goodrich Michael R
Goostree Franklin
Gordon Albert C
Gorecki John R
Gorman Raymond R
Goss Thadis
Goulet Steven G
Goulty John M
Gozel Stanley
Grace Edgar L
Grace Harold F
Gracey Hugh W – DNA
Gracey Thomas E
Graham Robert
Graham Terrence A
Gramazio Ronald J
Graney David M
Granlund Gregory J
Grant Richard V
Grasso Dino B
Graves Christop B
Gray Charles M
Gray Eric A
Green Clifford A
Green David T
Green Franklin
Green Gregory A
Green Jerome Jr
Green Larry
Green Len T
Green Richard D
Greene Benjamin Q
Greene Patrick M
Greene Timothy P
Greer Jerry
Greer Thomas U – DNA
Gregerson Michael D
Gregg Jackie L – DNA
Gregory Kevin L
Gregston Lyndol E
Grevious Robert A
Gribbs Harold K
Griffin Darnell
Griggs Eli C
Griggs Stanley H
Grimes Steven R
Griswald Lamont J
Groat Richard A
Groesbeck Walter F
Grogan Edward T
Groke Chris A
Gromek Joseph E
Gross Eugene H
Groves Michael E
Grow Roscoe G
Gruber Mark A
Gruenburg William W
Gudz George W – DNA
Guelow Robert B
Guerra Miguel A
Guerra Zeferino H
Guerrero Armando R
Guilliams Leslie E
Guilmette Howard – DNA
Guinther Terry A
Gumabon Peter P
Gustafson William G – DNA
Guttenbeil Hamani
Guy David C – DNA
Haag Larry K
Hagan Kenneth C
Hagar Timothy E
Haggin Melvin V – DNA
Hale Arthur M
Hale Jimmy J
Hall Alvin L – DNA
Hall Earl D – DNA
Hall Guy L
Hall Jesse J
Hall Morris W – DNA
Hall Raymond D
Hall Thomas D
Hall Warren O
Hallanger Scott D
Haller William
Halleran Kenneth E – DNA
Hama Raymond Jr
Hamby Bill J
Hamilton Bruce E
Hamm Lawrence W
Hammonds Jerome
Hampton Ray L Jr
Handbury Michael G
Handy Larry B
Hanlin Elwood R
Hanlon Terry P
Hannah Karry W
Hannaman Glenn O Jr
Hanson James D
Hanson Lawrence L
Hanson Len R
Haraszko Dennis A – DNA
Harden Charles
Hardgraves Michael E
Hardin Leland P
Hardy Justin L
Hardy Raymon F
Hardy Walter B
Hargrove Tony
Harlin Terrell E
Harrell Bradford F
Harried Amos
Harris James G
Harris Jeffrey
Harris William
Harrison Colemen
Harrison David V
Harrison Edward S
Harrison Richard W
Harrison Thurl W
Harrison Willard R
Hartley Timothy W
Hartsell Terry H
Hasenmueller Kenneth
Haskens Anthony C
Hatch Henry J – DNA
Hatch Louis B Jr – DNA
Hatfield Ronald R
Hathaway Donald R
Hauenstein Alan D
Havlick Charles A
Hawes Charles W
Hawk Robert
Hawkins Daniel Jr
Hawkins Matthew
Hawkinson Norman L
Hawley James D
Hayes Clarence
Hayes Darwin
Hayes John V
Hayman Joseph J
Haynes Billy R
Hayslup Joseph C
Headley J R
Healy Thomas E
Hearn Wiiliam A
Heath Robert
Heathco Leland G
Heck Gregory S – DNA
Hector John D
Heeling Johannes J
Hein Lynn J
Heistland Don A
Helci Leonard L
Heldt Donald L
Hemler John V Jr – DNA
Henderson John
Hendrickson Charles – DNA
Hendrickson Jeffrey C
Hendrickson Roger L
Henry Henry G
Henry Kevin M
Henry Willie L
Hermann Eugene O
Hermey Aaron E
Hernandez Leonard C
Herrera Augustin G
Herrera Enrque
Herrera Francisco
Herrera Gabriel
Herrera Joseph
Herring Donald W
Herringdine Larry
Herry Henry G
Hertzog Richard S
Heskett Gerald
Hewitt Doyle M
Hickam Michael B – DNA
Hickey Daniel J – DNA
Hickey Edward E
Hicks Darrel L
Hicks Michael
Hicks Michael J
Hidden Donald J
Higginbotham Travis
Higgins Carl D
Hildreth Carroll D
Hildreth Rusty W
Hill Brent A
Hill Dan
Hill Michael C
Hill Solomon
Hill Steven R
Hinch James V
Hinderman James R
Hineline Richard L
Hockin Richard L
Hodge John L
Hodge Thomas O
Hofacker Jeffrey D
Hofer Robert A
Hoffman Lee A
Hoffmann David
Hogan Michael J
Hogan Robert G
Holbrook Terry A
Holcomb Walter
Holden Daniel E
Holden Steven D
Holesy Alvin L
Holland Randall J
Holliman Jimmie C
Hollingsworth Glen A
Hollister Michael
Holloway Charles A
Holloway Delferd A
Holloway Gary W
Holmes Claude B
Holmes David E
Holmes Gerald L
Holmes Vincent
Holmgren Glenn R
Holston Michael W
Holt Charles
Honeycutt Wilbur F – DNA
Honeysette Jody
Hood Robert L
Hoover Mark D
Hopkins Michael A
Horn Randy L
Horne Robert
Horten Michael S
Horton Garrey C
Hoskins Alfred L
Hosmer Terry L
Hosp Kirk L
Hotchkiss Glen A – DNA
House Gregory A
Houser Homer F
Howard Dennis E
Howell Ronald E
Howell Samuel A – DNA
Hubner Howard P
Huckabee Joseph A
Hudson Charles A
Hudson James W
Huerta Erasmo
Huffman Emmett B
Huffman James L
Hughes Edward F
Hughes Isaac E
Hughes Kenneth E
Huighe Michael A
Hunt John W
Hunter Willie A
Huntzinger Rollin L
Huppman Mark A
Hura David L
Hurd Frederick
Hustead Michael L
Hutchings Charles B
Hutchinson Michael
Hutchinson Richard E
Hutchison Aaron S
Hutchison Charles D
Huth Edwin
Hyder Thomas B
Hymer Daniel J
Iacomacci Conard
Iglehart Thomas D
Ihrig Jerry R
Imel Mark R
Ingram Joseph L
Ioane Tauailotd
Irwin Michael J
Isaako Alielu
Isenblatter Larry R
Ivey Nori F
Jackson Allen J
Jackson Brian M
Jackson Darrell B
Jackson Ian B
Jackson John J
Jackson Larry L
Jackson Philip K
Jackson Prince lll
Jackson Samuel Jr
Jacobs Larry W
Jacobsen Kenneth K
Jacobson Randal E
Jacques Gilbert Jr
James Darrell E
James Peter B
James Raymond F
James Richard
Jankas Michael W
Japp Steven D
Jaramillo Paul M
Jares Joseph A
Jarrett Winsoton L
Jarvis Ernest R
Jarvis Timothy P
Jeffries Norman
Jenkins Donald L
Jenkins Lee R
Jenkins Philip W
Jenks Michael M – DNA
Jennings Larry E
Jensen Kelly B
Jensen Russell M
Jenson Thomas E
Jimenez Ryan E
Johnson Anthony D
Johnson Barry
Johnson Curtis E
Johnson Dale C
Johnson Darryl A – DNA
Johnson David C
Johnson Davy T
Johnson Dwight L
Johnson George E
Johnson Kenneth F
Johnson Kenneth F
Johnson Lidge
Johnson Oscar J
Johnson Philip E
Johnson Raymond J
Johnson Ricky L
Johnson Roderic
Johnson Russell – DNA
Johnson Thomas A
Johnson Walter J
Johnson Wayne P
Johnson Webb M
Johnson William L
Johnson Willie J
Johnston John J
Johnston John W Jr
Johnstone James W
Jolla Daniel A
Jones Alfred M
Jones Allen D
Jones Brian F
Jones Carl F
Jones Claude
Jones Danny E
Jones Donald E
Jones Earnest
Jones Eric L
Jones Gregory V
Jones Harrie T
Jones Jack R
Jones James W
Jones Jeffrey F
Jones John F
Jones Joseph K
Jones Larry
Jones Raymond J
Jones Robert W
Jones Wade F
Jones William K
Jones Willie L
Jong ll J
Jordan James L
Jordan Nelson P
Jordan Wayne A
Josey Joe L
Josey Marvin
Joshlin Coleman Jr
Judson Gerald A
Juist Mark A
Julik David W
Junas Keith
Justice Edward L
Kachman William E
Kafury Charles M
Kahili Michael N
Kahly Ralph E
Kaina William E
Kamelamela Mallory D
Kane Donald
Kaneshiro Richard Y
Kaniho Chris E
Kapp Thomas E
Karjala William P
Kawamata Richard S
Keairnes Robert P
Kearney Randy M
Keaweehy Stanley
Kebisek James M
Keck John L
Keefer Randy E
Keels Michael
Keene John R
Keene Timothy R
Keith Ernest D
Keller Orlander L
Keller William O
Kellerman Joseph E
Kelley Clifford W
Kelley Michael T
Kellogg Eldon H Jr
Kelly Ollie
Kelly Orris E
Kelly Patrick R
Kelly Zachary
Kendoll Lyle G
Kennedy Bruce – DNA
Kennedy Thomas Jr
Kennon Michael B
Kent Danny L
Kent James R
Keown Terry
Keplinger Blaine M
Kerr Donald A
Kester Penrose E
Kief Kenneth E
Kiehl Paul V Jr
Kiger James E
Kihe Ernest K
Kilgore Darrell
Kim Girard Y
Kimmel Robert V
Kindell Richard D
Kindred Jack L
King Henry
King Jonathan J
King Larry A
King Little D – DNA
King Marcus D
King Mark E
King Michael E
King Paul L – DNA
King Peter D
Kirby Gurnie J
Kirk Van
Kirves Bruce E
Kissinger Don L
Kjelgaard Kurt F
Klages George K
Klaus William T
Kleb George R
Klein Thomas M
Kline Howard L – DNA
Knapp Jonathan S
Knapp William – DNA
Knight Curtis R
Knight Raymond E
Knox Bernard A
Kochman Robert K – DNA
Koening Douglas R
Kohler Joseph E
Koker Chris A
Konfrasky Kenneth
Konys Walter W
Koole Thomas L
Koonce Marion A
Kosko William G
Kovalcik Joseph F
Kowalczyk Richard
Kozaiatek Norbert W – DNA
Kratz Lyle P
Kreynest Douglas A
Kroeck Ralph D
Kroemmelbein Dan
Kruse Michael L
Kuamoo Russell
Kudlesky Allen S
Kunkel Kenneth M
Kunz Raymond F
Kyle Andrew J
Kyle Christophe
Labasan Joseph F
Laboy Jaun J
Laboy Jesse V
Lacasse Mark F
Lackey John M
Ladely Joe A
Laferriere Robert E
Laflamme Daniel
Lafollette Donald R
Lafond Clovis O
Lafrance Mark L
Lagesse Randy P
Lagrand Stephen J
Laguatan Gilbert
Laird Paul E ll
Laird Virgil L
Laizure David A
Lamb Donn W
Lamb Joseph J
Lamertina Gregory M
Lanci Anthony F
Lane Darrell G
Laney Henry A
Lang Douglas F
Lang Ronald E
Lang Thomas E
Lange Richard R
Lankford James G
Lantz Kevin A
Laporga Tommy
Lara Jesus – DNA
Laramie John S
Laroe Donald P
Larrivee Richard R
Larson Jeffrey C
Larson Jeffrey R
Lashley Anthony R
Latham Harold
Latocki Bruce M
Lauer Joseph W
Laughlin Kirby
Laughlin Ralph
Laughlin Robert A
Lavin Mark J
Law Leighton L
Lawnick Edward M
Lawrence Forrest W
Lawrence Nicholas
Lawrence Robert A
Lawton Earnest M
Lawton Michael
Lawton Robert L
Lay Richard M
Layfou Canton
Layman Keith A
Layman Robynn P
Layman Roy D
Lazenby Raymond D
Lee Dwayne G – DNA
Lewallen George O – DNA
Lockwood Ronald E – DNA
Loggins Jerrell S – DNA
Louderback Kenneth L – DNA
Luckett Larry W – DNA
Ludwig Robert H – DNA
Ma Ka H
Maarsingh Ronald D
MacDonald Peter J
Macliz Ruben
MacVeigh Bruce S
Macx Macaulay David J
Madden Ronald L
Madden Thomas P – DNA
Mailloux Louis G
Makovicka Leo S
Maldonado Gilbert
Maldonado Robert E
Maldonado Rodolfo
Mallett Rodney A
Mallory Leroy
Mangrum James H – DNA
Mann Melvin M
Mansfield Scott R
Mapp Whitney P
Marchessault Steven
Marcotte Raymond
Marcy Daniel A
Mardls Terrance L
Marganti Raymond P
Marin Garcla Jose L
Markwick Daniel E
Marler Sammie L
Marsano Jesse J
Marshall Emmitt J
Martin Daniel J
Martin Douglas M – DNA
Martin Ernest A
Martin Larry R – DNA
Martinez Daniel
Martinez Frank W
Martinez Mario J
Masculine Richard M
Maskal Thomas P
Mason Darrell M
Mason Earl L
Mason Elgin B
Mason Harold C
Mason John T – DNA
Mason Kevin D
Massia Mark D
Massingill Guy R
Masteller James D
Mastoris William Jr – DNA
Mathews Michael J – DNA
Mathewson Nathan S – DNA
Mathis Charles O
Mathis John
Mathis Steven J
Matisheck James A – DNA
Matney Rex H
Matthieu Paul J
Mattlab Peter N
Mattson David L
Maudsley James L
Maulding Bernard J
Maulding Brain L
Maurer Dieter
Mavroudis Michael A
Mayo Milton T
Mayse Kenneth A
Mazat Bruce A
McAbee Jeffery A
McAfee Stephen T
McAskill Patrick M
McBride Marion
McCallister John C
McCalmon John M
McCann Kirk A
McCarn Kevin O
McCarthan Tony C
McCarthy James F – DNA
McCarty Phillip L
McClanathan Roger L
McCluere Richard R
McComas Terry D
McConnell James K
McCormick Michael F
McCoy Charles D
McCoy James B
McCray Harry G
McDaniel David M
McDaniel Victor R
McDanniel Aron
McDole Gregory
McDonald Robert A
McDubbine Richard A
McDuffie Curtis B
McElroy Earl R
McEroy Nathaniel
McFadden Johnny L
McFearin Patrick A
McGarrah Ronald L – DNA
McGaughy William E
McGee George W
McGee Thomas
McGee William J – DNA
McGinnis Patric L
McGinnis Rickie D
McGinty Leslie K
McGowan Ricky N – DNA
McGregor Danniel R
Mcguiggan Michael
McJunkin Mark W
Mckean Glenn D
Mckee Stephen L
McKelvey Harold C
Mckennett Christop
McKenzie Scott B
McKenzIe Willie E
Mckeon Thomas V
Mckinney Willie L
Mckinnon Jerry W
MckinzIe Rodney W
Mcknight Robert K
McLaughlin John H
McLaughlin Kevin P
Mclean Roy T
McLeod Charles J
Mclnnis Vertis O
Mclntire Michael W
Mclntosh Milton
Mcmahon Kevin G
McMaster Richard
McMillan Jack O
McMillan Jim D
Mcmorrough Jerry L
McMullan Frank W – DNA
McNair Julius
McNary Thomas
McNeese Anthony
McOwen Robert L
Mcvey Randal E
McWaters Marlyn D
McWilliams Danny R
Mcwilliams Michael C
Meade DennIs A
Meade Donald E
Mederiros Michael
Medina Ruben
Meek Ronnie A – DNA
Mehan Neal E
Melvin Jackie J
Melvin Terry G
Mendiola Roy C
Mendoza Phillip
Mercado Gilbert
Meredith Daivid L – DNA
Merrill Van M Jr
Messenger Jeffrey A
Metzger Arland J
Meyer Jerome F
Meyer John H
Meyer Leo G
Mezaluna Manuel
Mezzacappa Ronnie
Michael Berlie L
Michaud Norman P
Mier James J
Miles Grady F
Miley Wesley W
Miller Bert W
Miller Danny R
Miller David L
Miller Dean A
Miller Howard A – DNA
Miller Jack D
Miller James A
Miller James E
Miller James P
Miller Mark A
Miller Ralph O
Miller Russell C – DNA
MillIgan Rodney T
Millspaw Bruce V
Millwood Carl
Mimmert Brian A
Minor James L – DNA
Minter Thomas P
Miranda Harry G
Mitchell Charles P
Mitchell Fulton L
Mitchell Gabriel G
Mitchell John H – DNA
Mitchell Louis Jr
Mitchell Robert A
Mitrione Michael F
Mittler James A
Mixan Edgar J – DNA
Miya Leslie T
Miyamoto Randall
Mok Raymond
Moll Gregory P
Moman Martin L
Monahan Michael E
Monal Thomas A
Monk John B
Monroe Addis W
Monroe Patrick J
Montalvo Victor
Montgomery Bruce
Montgomery Melvin
Moody David H
Moody Donald E
Moody Wilkie C – DNA
Moore Michael K
Moran Brian S
Moran Richard J
Morelion Glibert
Morgan Charles R – DNA
Morgan Joseph W
Morgan Oliver A
Morgan Raymond H
Morgan Richard E
Morris Clinton
Morris Elden H
Morris Leo
Morrison Thomas B
Morrissey Kevin D
Morrow Terry M
Morse James S
Morton Nathaniel
Mosby Jeffery R
Mosley Duane
Mosley Paul W
Mosley Thomas C
Moss Gregory L
Moss Ira G
Moten Danna R
Mottas Joseph A
Moulis Mark D
Moultrie Gregory L
Moultrie Michael A
Moxley Thomas L
Moyer Charles W
Mozine James S
Mullen Herbert G
Murphy Darrell J
Murphy Dennis J
Murphy Joseph A
Murphy Patrick M – DNA
Murphy Raymond E
Murphy Stephen D
Murray Craig R
Musnicky Joseph R
Mussman James C
MycKo Stanley M
Myer Peter H – DNA
Myers Eric J
Myntti Peter I
Nagel Gerald A
Naito Gregory T
Nance Jerry D
Nary Thomas J
Naugle Kent F
Neely James C
Neely Mark S
Neff Rimothy P
Neff Robert H
Neibert Robert W
Neifer Richard E
Neighoff Irvin T
Nelms Lyle R
Nelson Craig R
Nelson Douglas A
Nelson Jay H
Neprud Phillip
Neta Charles E
Neuhof Hans J
Nevers John T
New Joseph B
Newell Wane D
Newsome George O
Newton Patrick E
Ngiraingas Texi K
Nichols Charles E
Nickelberry Derwin I
Niles James L
Nimmo Alvin W
Nixon Rickey
Nolte Michael E
Nored Ronald K
Norman Michael A
Norris Curtis D
Norris Robert L
Norris William E
Norton Donald W – DNA
Nowling Aaron L
Nuter David J
Oakhem Paul J
Obannon Odis G
Obrien James A
Obrien William J
Odom James T
Oelman Randall C
Ogden George C
Ogden Gregory B
Ogilvie David L
Okami Edward M
Oldenkamp Larry J
Oldham Donald R
Oliveira William J
Oliver James C
Olona Thomas J
Olson Bradley L
Olson Dennis C
Olson James A – DNA
Olson Roger G
Olson William
Olsten Peter D
Oneil Peter J
Ono Patrick M
Ormston Gary E
Orr William
Ortiz Jose E
Ortiz Lopez Roberto
Osborne Hansel E
Osteowski Peter E
Oster Douglas W
Overton Willie
Owens Andrews
Owens Burbege E
Owens Tommie L
Owsley Charles L
Pace Michale J
Paczelt Eugene
Pafaff Friedrich
Palmer Joseph
Palo Timothy E
Pancotto Louis A
Panto John D
Papas Earl W
Par Gregorio C
Pardo Jesus
Paris Chris S
Parker Edward
Parks Thomas O
Parks Willson G
Parr Kenneth K
Parrish Thomas J
Parry Scott D
Parsell Bruce W
Parton Robert B
Partridge Douglas W – DNA
Patrick Daniel J
Patrick James B
Patsote Jaime C
Patterson James J
Patterson Ruben C
Patton Duane C
Paul Perry L Jr
Paul Robert L
Paul Scott
Paullison Robert P
Paulson Michael A
Pawlowicz Gregory C
Payne Jerry L
Payne Joseph Jr
Pearson John W
Pece Willie J
Peck Dennis G
Peckinpaugh Clarence
Pelny Dwight D
Pember Kenneth
Pendergast Richard D
Penn Ronald V
Pennington Alan P
Peno Robert L
Peredo Edward B
Pereira Antonia M
Perez Guadalupe
Perezvillamont Alberto
Perkins Danny L
Perkins James A
Perot James R
Perrotta Thomas J
Perry Jerry
Perry Jerry D
Perry Robert S
Peters Gerald E
Peters Robert L – DNA
Peterson Hezzy H Jr
Pettiford Ronald E
Pfeffer Alan
Phaneuf E R Jr
Phillips Anthony E
Phillips Donald E
Phillips Steve
Piatak John R – DNA
Piazzi Joseph A
Pickering David E
Pickler David E
Pierce Ronald A
Pierre Ivan C
Pinegar Ronald D
Pingel Ricardo M
Pinkard Charlie B
Pinke Scott L
Pinkley Ronald G
Plemons David W
Pleshek Peter D
Plum Rodney H
Poa Lago M
Polich Victor
Polito William R
Polk Melvin Jr
Polk Richard W
Pollier Joseph L
Ponton Albert M
Poole Clifford E
Poole Robert A
Popp Jeffrey J
Porter Brian J
Porter Donnald L
Porter Ivan E
Porter John J
Porter Larry F
Porter Lee H
Porter Lonnie R
Porter Michael D
Posey Jerry
Posties Caleb
Pote Charles A
Potterf Richard W
Powell Edward E
Powell Harold E
Powell James C
Powell Ronald G
Powers Emerson L
Pozanarsky Robert A
Prall Eric L – DNA
Prater David C
Prather George E
Preciado Richard F
Presseau Timothy A – DNA
Presto Liberto
Preston Cameron B
Preston Gerald N
Preston Robert D
Prestridge Robert W – DNA
Prewitt Randy
Price Mark A
Price Robert M – DNA
Price William J – DNA
Proffiti James A
Prophet Alvin S
Pruett Charles I
Pruett George W
Pruitt Michael H
Prunty Curtis D
Pulis Gary C
Pullings Donald
Purcell Daniel J
Purdy Michael H
Pybas David J
Queja Joseph
Quigley James F Jr
Quincy Frank B
Quinn Graham D
Quinn Robbin A
Rabbit Richard L
Rachels Thomas J
Rademacher James A
Rader Larry W
Rados Michael D
Raftery Thomas L
Ramey Marion L
Ramirez Juan A
Ramos Remigio
Ramos Vicente
Ramstack John A
Randolph David J
Rankins Norman L
Raphael Franklin D
Rasel Jeffrey L
Rasmussen Gene D
Raso John T
Rathbun John L
Rathburn William A
Rawls James C
Rawson Douglas L
Ray Clark K
Raynis James B – DNA
Reaves Eddie T
Rebbe Steven M
Reddick Nathaniel
Redfield Corey B
Redfield Peter C
Redington Everett A
Reece Jerry R
Reed Billy R
Reed Kenneth L
Reed Max E
Reed Paul L
Reedy Jeffrey A
Reedy Patrick J
Reel David K
Reese Glover
Reeve John H
Reeves David L
Reeves Jesse W
Regner Franz A
Rehmert Colby D
Reid Thomas L
Reifke Thomas P
Reilly Joseph R
Reimann Horst W
Reimier Robert J
Rel Anthony T
Rendon Roy
Retter Clarence A
Revis Andrew J
Reyes Robert
Reynolds Anthony E
Reynolds Daniel G
Reynolds Dennis
Reynolds Ernest D
Reynolds Larry D
Reynolds Ronald M
Reynolds Steven E
Reynolds Tim O – DNA
Rezentes Wayne C
Ricco Joseph W
Rice Clinton
Rice Johnny B
Rice Victor R
Rich Chester C
Richardson Allan G
Richardson David C
Richardson Duane A
Richardson Johnny – DNA
Richardson William J
Richel Eugene J
Richter Jeffrey C
Rickard Bobby J
Rickett Melvin
Rickus George M
Ridgeway Gary L
Riggle Steve R
Riggs Donald G
Riley Jerry R
Riley Kevin L
Riley Lonnie M
Riley Michael F
Riley Paul V
Riley Sylvester
Riley Thomas J – DNA
Riley Wilmot T
Rios Anthony B
Riser Emmitte R – DNA
Ritchie Mark A
Ritterspack Frederick – DNA
Rivera Angel M
Rivera Fernando
Rivera Hector M
Rivera Santos Jr
Rivera Stanley
Rivera-Rosado Angel
Roach Randell E
Robbins Carl E
Robbins Lawrence A
Robbins Walter O
Roberson Harrol L
Roberson Lewis P
Roberts Donald D
Roberts Donald G
Roberts James
Roberts James L
Roberts Oc
Roberts Randell R
Roberts Ronald C
Robertson Buford A
Robinson David A
Robinson James W
Robinson Larry C
Robinson Robert D
Robinson Spencer H
Robison Ernest D
Rocha Erasmo G
Rochon Fredrick
Rockefeller Blair E
Rockhill Jeffrey H
Rodarte Robert Jr
Rodgers Darryl D
Rodriguez Hector M
Rodriguez Richard B
Rodriguez Robert A
Roe Rex A
Rogers James H – DNA
Rogers Paul E Jr
Rogers Solomon A
Rollins Lewis C
Rollinson Willie N
Rolls Anthony L
Ronk Michael B
Roper Lindell K
Roper Ricky S
Rose Daniel L
Rose Larry A
Ross Michael J
Rossiter David R
Roukat Mark
Rowe Albert L
Rowell Dana
Rowland James W
Rubio Miguel
Rucker Gilbert B
Rucker Jonas
Rudd Danny
Ruge David E
Rundell Helem M
Rundle Laurence
Runyon Wallace J – DNA
Rush Benjamin P
Russell Albert F – DNA
Russell Francis E
Russell Price E
Russell Thomas L
Ruud Gerald L
Ruyter David S – DNA
Ryan Lawrence M – DNA
Ryba Dennis M
Rydzewski Edmund J
Sabanski Richard L
Sadowski Edward
Saicido Arturo
Sampt Robert R
Samuels Mark S
Samuelson Howard B
Sanches Manuel L – DNA
Sanchez John J
Sandberg Michael L
Sanders Donald M
Sanders Robert J
Sanderson David B
Sandoval Arthur
Sansom George A
Santos Theodore J
Santoyo Robert M
Sargeant Mark R – DNA
Sargent William I
Sarnovsky David J
Saucedo Ernest A
Saucier Garry E
Saunders Marvin C
Sauter Larry W
Savage James H
Savage Kevin C
Sawyer Gary T
Sawyer Ronald M
Schaefer Michael T
Schaffer John R – DNA
Schaffer Ronald E – DNA
Schauer Burt L
Scheidt Donald L
Scherbarth Jeffrey J
Scherzinger Gary W
Schiebel Kevin W
Schiner George F
Schlapak Bob
Schmitt Dean G
Schneider Gary
Schneider Rama O
Schnell Kenneth
Schoby William F
Schroeder Richard A
Schubert William A – DNA
Schumacher Daniel L – DNA
Schwartz Brian L
Schwarz John P
Schwocho Niles
Scollon James P
Scott Anthony H
Scott David M
Scott Dwight G
Scott George W
Scott Lee
Scott Robert L
Scullary James R
Seaborn Gerald T
Seago Joe G
Sechrist David L
Selby Raymond B
Seldon Jim P
Self Gary C
Self Rodney E
Semelsberger Paul W
Sentell Russell
Sepulveda Mariano
Sermons Richard P
Sessions Michael G
Setzler Larry C
Sevasetast Michael N
Sexton Paul E
Seyler Dennis A
Shackley John W
Shafer Gilbert C
Shaffer Roy M
Shalosky Mark D
Shans Robert L
Shapazian Charles M
Shaw Walter B
Shawley David W
Shay Michael
Shedd William E – DNA
Sheehan Robert J
Sheffield Harold
Shelton Brian E
Shelton John E
Shephard Donald M
Sherman David
Shields Randall E
Shimabukuro Ken M
Shirer George A
Shirk Michael L
Shirley Jerry D
Shook Allen T
Shores Joseph P
Short Stephen M
Shortt Terry E
Showers Jack
Shum Yurys
Siesman Ronald A
Sigmon Jim R
Silva Steven E
Simmons Theodore
Simniok Paul W
Simon David P
Simpson James P
Simpson Marlin R
Simpson Randolph I
Simpson Robert B
Simpson Timothy P
Simrick Martin W
Sims Jerry D
Sims Raymond L
Sims William D
Singer Doyle W
Singer Tommy R
Singleton Larry
Singleton Robert R
Sink Jack G
Sirmons Gary W
Sisco Dale R
Sitten John R – DNA
Skantz Swen I
Skelton David A
Skidmore Carolyn – DNA
Slater Richard A
Slay William R
Slobojan Michael J
Slocum Neale A
Slyngman Park D
Small Kurt
Smalley Jerome D
Smallwood Daniel C
Smartt Ronald M
Smith Anthony
Smith Brent T
Smith Bruce A
Smith Carlton W
Smith Daniel L
Smith David P
Smith Douglas T
Smith Frederick
Smith Gary W
Smith Gerod O
Smith Harvey
Smith James
Smith James D
Smith Keith L
Smith Kelly F
Smith Leonard G
Smith Lloyd E
Smith Lonny B
Smith Milton J
Smith Otto B – DNA
Smith Robert E
Smith Robert G
Smith Robert M
Smith Robert R
Smith Roosevelt
Smith Scott – DNA
Smith Steven L
Smith Thomas
Smith Thomas R
Smith Warren S – DNA
Smith William
Smithwick Thomas L
Smythe Earl J Jr
Smythe John D – DNA
Sneed Terry
Snider John M
Snyder Dale R
Snyder Kurt A
Solheid Mark J
Soliz Donato P
Sollinger Jerry W – DNA
Solo Anthony A
Somonette Raymond F
Sorensen Ronald P
Sosa Julio V Jr
Soto Jose A
Sotomayor Rosario F
Sova Norman E
Span William H
Spanding Eric J
Spangler David – DNA
Sparks David A
Speakman Rankin M
Spears Mark
Speer Michael B
Speller George M
Spencer David D – DNA
Spencer Henry C
Spencer Joseph A
Spencer Ronald M – DNA
Sperow Charles C – DNA
Sperry Virgil L
Spink Gene A
Spires Johnny C
Spivey Gary
Sprague Kenneth E
Sprague Larry E
Spratt Donald W
St Arnaud Charles E – DNA
St John Terence
St Peter Martin L
Stack Robert L
Stacy George M
Stafford Edward
Stahl Nelson T
Stahlheber Charles E
Stallworth Billie
Stanfill Thomas E – DNA
Stanley Ronald D
Stanton John H Jr – DNA
Stark Floyd
Starkey Allan W
Staton John
Staubin Daniel
Stearns Robert F
Stearos Bernard A
Stecher Thomas A – DNA
Steele Robert K
Stefanko Richard Jr
Steiner Willie J
Stelzer Keith A
Stephens James B
Stephens Michael W
Stern Thomas J
Stevenson George Jr
Steverson Jerald M
Stewart James L – DNA
Stewart Martin
Stickler Jack D
Stine Leon L
Stockstill John D – DNA
Stockton Kelly
Stokes Jeffrey L
Stone Brandon B
Stone James R
Stone Paul H
Storm Gary D – DNA
Story David W
Stracuzzi Jay A
Street Jessie M
Street John T
Streit Mark E
Stringfellow Douglas S
Strobel Robert E
Strong Dexter D
Stroup Steven W
Sturdavant Donald P
Stutts James F
Suafoa Lafaele V
Suarez Luis
Suchosky John A
Sudol John T
Sufilka George J
Sullivan Ollie
Sullivan Terrance
Sullivan William J
Summerfield Phillip K
Summers Peter
Susulco Vicente W
Sutherland Richard W
Sutton Greg A
Swansen Timothy D
Swanson Charles E
Swartz James R
Sweeney Patrick T
Sweeney Thomas P – DNA
Swenson Steven R
Swieter Andrew P
Szlanfucht Stanley C
Tabudlo Victor T
Tackett Ricky K
Taeu Samuel
Taft James L
Taira Robert T
Talso Warner W – DNA
Tanaka Kenji
Tanke Douglas E
Tant Paul E
Tate Grayson D – DNA
Tate Timothy R
Tatro Thomas
Tautua Livisitone
Taverna Thomas P
Taylor Alexander
Taylor Darrell R
Taylor James E
Taylor Keith J
Taylor Larry – DNA
Taylor Vernon L – DNA
Teems Bobby J
Tellez Benjamin O
Tenney Glenn G
Terrell Larry A
Theis Raymond M
Thibert Philip W
Thomas David A
Thomas John H
Thomas Raymond B
Thomas Robert L
Thomas Ronald F
Thomas Steven C
Thompson Brian P
Thompson Howard M
Thompson Irvin D
Thompson Joseph C
Thompson Mark E
Thompson Timothy R
Thompson William
Thomson John B
Thonen Charles M
Thorne George E – DNA
Thorne Valentinoa
Thorner Laurence P – DNA
Thornhill Conan C
Tidwell Carl E
Tigilau Faau
Timmons Earnest – DNA
Timmons Richard H
Tinsley Peter J
Tippit Timothy
Titow John R
Tobler Leon N
Toch Maximilian – DNA
Todd James E
Todd John C
Todd Paul B
Todd Terry W
Toddy Joe Y
Tokumura Clyde M
Toledo Irineo R
Tolinos Mario N
Tolle Albert L
Tompkins George T
Tonic Steven M
Torgensen Arvin L
Torres Richard L
Torres William
Torres-Bauza Luis A
Toski Mary P
Tracy Sean D
Trager Robert O
Transfiguracion Manuel
Treat Charles J – DNA
Trevino Pete
Trevino Robert Z
Trevizo Raymond H
Trimnal William A
Trowbridge Calvin
Trudel Richard A
Tuck Joseph A
Tucker Glen H Jr
Tucker Lee W
Tucker Terry L
Tucker Thomas L
Tucker Willie E
Tuggle James E
Tumelson Bryce L
Tupin Edward A – DNA
Turanik Charles M
Turk Jonathan E
Turner James
Turner Joseph J
Turner Michael A
Turner Steven
Turner Thomas D
Turnidge Rodney D
Ulloa Robert J
Ulrigg Richard R
Underwood William B
Unger Raymond R
Upshaw Joe D
Urle Joseph L
Vaielus Asafo
Valentin Edwin A
Vallere William E
Vanackern Darrell D
Vanauken Kenneth L
Vanderhoff Charles H
Vandjk Jan
Vankirk Charles L
Vanprooyen Jan A – DNA
Vanslyke Paul B
Vargas Mario
Varnadore Earl D
Varner Donald
Vasquez John
Vassar Jimmy G
Vazquez Miguel A
Veatch Hohn D
Vega Joseph W
Vela Carlos
Veltman Kevin E
Venard James W
Ventrelli Frank V
Verbano Richard A
Verdugo Gary L
Vicente Ai T
Vien Richard R
Vigeant James T
Vinson Lewter
Vlloria Ernest
Volk Robert H
Vornbrock Thomas J
Vreeland Michael F
Wade Forrest L
Wade Leon R
Wade Robin R – DNA
Wagner Lawrence E
Wagner Mtthew J
Waldrop Bruce S
Wales James B
Walhgren Lynn M
Walker Carlton D
Walker John E
Walker Junior J
Walker Kenneth R – DNA
Walker Rowland
Walker Willie Jr
Walkerow Steven L
Wall James
Wallace Jackie R
Wallace John
Waller Kenneth R
Waller Thomas
Walters Thomas R
Walton Michael A
Wangerin Lloyd
Ward Ernest B
Ward Ralph G
Warren Donnell B
Warren Roger S
Washechek Charles
Washington Chester E
Washington Gregory
Washington Michael
Washington Willie H
Waters Lawrence A
Watkins Jerry
Watley Curtis R
Watson Charles H
Watson Michael L
Watts Bobby N
Weaver Michael W
Weber Ronald E
Weber Ronald J
Webster Arthur
Weeks Johnny W
Wegner James E
Weir James C Jr
Welch Clifton D
Welch Jack J
Welch Steven A
Wellman Dale L
Wells David J
Wendland Gerald B
Wendt William S
Wentworth Marshall D
Werner David A
Weseman Franklin L
West John H
West M C
West Otis
West Timothy C
Westcott Dennis
Westerling Rodney
Westfall Michael G
Weston Clvde
Wetherby David W
Wetherell Sterling – DNA
Weythman Gayle A
Wheeler James E
Wheeler Robert W
Whetham Allen E
Whitaker Royne R
White Clair M
White David W
White Jimmie L
White Richard
White Vernal T
Whitehead Titus L – DNA
Whitehill Ivan
Whitehurst Timothy
Whiteneck Norman S
Whitfield Michael S
Whittenburg Mike
Whyte Duncan T – DNA
Whyte Timothy W
Wieck Frank E
Wilbourn Napolean
Wiley James M
Wilgus Damon R
Wilhelm Edward
Wilkerson Bill W
Will Edgar O
Williams Brian C
Williams Bruce W – DNA
Williams Darrell
Williams De La Rue
Williams Doulas
Williams Dwane
Williams Euland L
Williams Frank L
Williams James E
Williams Jimmy – DNA
Williams John S
Williams Karl F
Williams Kent D
Williams Lionel
Williams Michael
Williams Ronald
Williams Terence
Williams Uk
Williamson Charles T
Willis Richard
Willliams Kenneth
Willougby Reginald D
Wilson David K
Wilson Donald T
Wilson James H
Wilson Johnny D
Wilson Kenneth D
Wilson Larry T
Wilson Lee V
Wilson Michael R
Wilson Richard J
Wilson Samuel
Wilson William D
Wilson Willliam L
Wimberley Robert K
Wingfield Damon D – DNA
Wisell Barry M
Withrow Matthew E
Witting Warren
Wolf Kevin D
Wolfe Daniel H
Wolfe Michael D
Wolff Herbert E – DNA
Wolterman John W
Womble Terry
Wong George K – DNA
Wood David L
Wood John W
Wood Timothy L
Woodard Thomas
Woodard Timothy A
Woodard William P
Woodrick Gary T
Woodruff Bradly N
Woods Charles E
Woods Charles R
Woods David E
Woods John W
Woods Napoleon
Woods Roger D
Woodson Walter W
Wooten Johnny T
Worchester James T
Workman Greg A
Worsham Lushene M
Worthy William A
Wright Flate Jr
Wright James L
Wright Paul L
Wright Robert L
Wynn Eric V
Wynn Odell Jr
Ximines Robert L
Yancy James D
Yearby Mckinley
Yellets James M
Yocum Frankie L
Yongblood Lee M
Yongbloood Marion
Yoon Kwaing
York Gary A
Young Jan W
Young Owen A
Young Ralph R
Young Randy E
Young Stuart
Zacchine Gregory
Zebell Gary E
Zehnpfund William F
Zimmerman Ronald
Zinniel Glenn E
Zirbel Dale L
Zitzner Ernest G
Zschoche Donald E
Zwartz Daniel E
All efforts have been made to insure the information provided is an exact copy of the original articles published by Army Times in 1980. Here are the best quality photos available of the original publication:
You can help us change our "occupational" exposure classification to "at-risk" exposure by letting your Federal Representatives know you want them to support H.R.632 – Mark Takai Atomic Veterans Healthcare Parity Act and identical Senate Bill S.283.
Continue to learn more about us from various resources shared by supporters and cleanup participants in future AtomicCleanupVets.com articles. Our articles contain photographs, videos, documents and stories shared by the actual participants who cleaned radioactive contaminated soils and materials from the surface of the islands at Enewetak Atoll.
Article written by Girard Frank Bolton, III. 1977-1979 (14 month) participant with C Company and HHC S-3 (Operations) 84th Engineer Battalion (Combat Heavy) (Fwd) Enewetak Atoll, Marshall Islands.

Much appreciation goes to John Lee Hodge for retyping the list of Army Personnel awarded the Humanitarian Service Medal from the original Army Times newsprint article and sharing photos of the article. Hodge was a Radio Operator in B Company, 84th Engineer Battalion (Combat Heavy) (Fwd) (Fwd) on Lojwa Island from 4/5/1978 – 3/6/1979.

Thanks goes to Robert Barrall for sharing his photos of the original Army Times newsprint. Barrall was an Engineer Equipment Repairman in A Company, 84th Engineer Battalion (Combat Heavy) (Fwd) on Enewetak Island from 5/8/1979 – 9/26/1979.

We are especially thankful for Army Times publishing the original article in 1980!
Our Current Mission is to help health challenged Atomic Cleanup Veterans become included in the Veterans Administration's definition of an Atomic Veteran so we can qualify to apply for funds set aside for veterans "who participated in radiation-risk activities during active service."