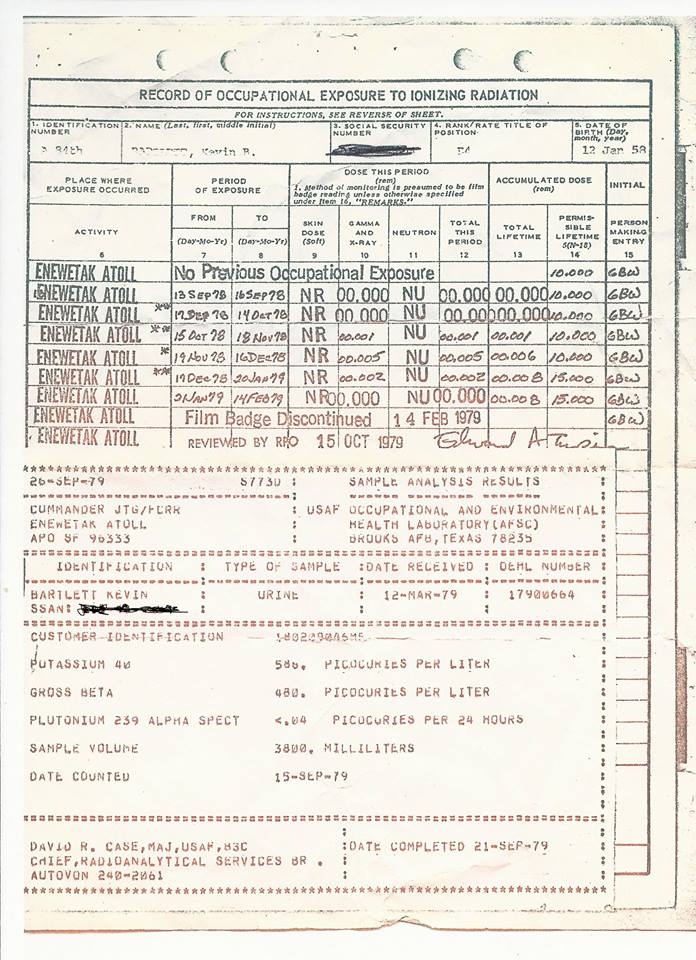 We are but a few of the Survivors of the 1977-1980 Enewetak Atoll Atomic Debris Cleanup Mission in the Marshall Islands. 
Our Original Mission was to relocate and entomb radioactive fallout and debris from the surface of the islands of Enewetak Atoll so the dri-Enewetak Islanders could return to their beautiful homeland of 40 Islands in the Marshall Islands.
We accomplished our Humanitarian Mission in 1980. Currently, some of us have health challenges related to cleaning up radiation produced by 43 atomic bombs tested in the Pacific Proving Grounds during the Cold War's Atomic Test Program.
On May 6th 2014, we started collecting information about our health challenges.
As of November 18th 2015, we have 327 responses to our survey.
274 responded to the question "Veterans Administration Health Assistance?" 83 said Yes, 20 replied Pending, 114 said "No assistance currently needed", 57 replied "Other." The remaining 53 (of the 327) respondents did not reply to the question.
Comments vary from good to bad, but here are how 274 Enewetak Atoll Atomic Cleanup Veterans answered the question: "Comments about your experiences with the Veterans Administration." Respondent names have been omitted for privacy reasons. And some information has been edited to maintain confidential information.
I have only used the VA very few times, generally I was treated o.k.
I go to the one in Chillicothe, Ohio. I really haven't tried to pursue anything from the radiation, I know I should.
Been in the system for about 6 years. I have no complaints. Just wish I made the connection between Enewetak and my health soon.
I've been treated fairly. I did have to wait almost 24 months for a decision about increasing my service connected disability rating. It finally came through in my favor.
I have filed a claim for disability (denied). I filed an appeal last year and they are still working on it. I am unable to work and life is difficult.
It's usually a nightmare. The phone system is ridiculous and wait times for appts are long. Whenever I bring up issues about the island people ignore me and say they never heard of the island.
None
Only have benefits for the glaucoma
Poor
My claim for sleep apnea has been denied twice and I am searching for a link that it is a service connected.
Treated at VA for Diabetes. Starting treatment for Cancer. Treated by Kaiser for Kidney failure. On PD Dialisys.
No issues.
I do not go to the VA in Atlanta. I went and they asked questions about things that were not related to my illnesses. I felt this was an invasion of my privacy and do not go for treatment any more.
Most things are taken care of, they still deny any talk about radiation.
Not as favorable as I would like.
I use VA for service connected disability and have had no bad experiences that are worse than any other medical facility!
I have had no assistance with VA. According to the VA, we are not eligible until we have a service connected ailment.
Difficult getting them to provide the disability benefits but the VA health system is good.
I requested my military records, my medical records and my DD-214 from St Louis about a week ago and waiting to see what happens.
Have not had to deal with them.
They have been awesome.
Same smell "hurry up and wait.". I let my doctor know about Enewetak.
Looked at by out source doctors paid for by VA but did not take in account of my service at Enewetok Atoll.
No claim has been filed
The only thing I ask for upon retirement was an annual radiation exposure evaluation. Never happened. Now have a 60% disability rating, and applied for disability for health challenges due to possible agent orange exposure during my combat tours in SEA. The VA is a perfect example of the non-politically correct term I coined to represent supervisors who have been elevated to their level of incompetency during their tenure with the U.S. Government, "rewarded incompetence!" Would have been nominated by my US Senators and Congressman for Secretary of the VA if we would not have been burdened with a second term by the person currently occupying the White House.
A refusal to accept valid proof of assignment and presence in the Marshall Islands even though UCMJ actions in records alone would prove my claim.
For the most part my experiences with the VA have been good.
None at this time.
At first I was denied health coverage. And after someone put a boot up their poop chute they started to take notice.
So far it has been good.
Good over all, no one have had a radiation survey on my health issue. They blame it on old age. Just retired from military in November 2014.
It would be nice to get a little assistance from the politicians of Indiana as opposed to being totally ignored.
Positive. No radiation problems but do get hearing aids from them. That is all.
I feel that the E-CUP Veterans are being treated like our brothers who fought the VA for acknowledgment on Agent Orange!!!
Did not really check into VA . Was under the impression that I did not qualify.
They take good care of me.
Once they was ordered to take action, they did.
Not recognized.
Frustrating at times.
Nonexistent.
NONE AT THIS TIME.
I use the VA facility in Temple, Texas. I think that their level of care is as good as I would get from a civilian provider. I make co-payments and I have no other insurance.
Difficult.
Don't trust them any further than I can throw them.
Worked for them as a work study student loved it.
So far it has been good.
I have yet to enter a claim, I've heard terrible things and frankly don't have the energy it stamina to fight with them. I'm unable to travel and due to severe pain I can get quite short tempered with BS!!
No help sent for exposure test results. They sent them back blacked.
For the most part the VA has been great. However, they seem not to be aware of our plight as Nuclear Clean-up Vets. Also, being charged co-pay for service connected conditions.
Been denied benefits because the clean-up is not on the list of Atomic Veteran list.
Just started.
I have never checked in with anyone. In talking with other Vets I am lead to believe I may be too late to apply for any help.
I have been one of the lucky people, I guess. The VA Hospital I go to is in Pensacola, FL and they seem to have taken pretty care of me for several other issues and service connected disabilities. I have tried to mention on multiple occasions to a physician while on one of my many visits about the deployment to Eniwetok Atoll and they tell me that they can only discuss what's on the current visit request. I guess I need to request some sort of physical in the possible problems of that deployment.
It Sucked.
Good so far but extremely slow.
Never told I was eligible for treatment until 2006 when it became an emergency. Disabled due to line of duty back injury 10% in 1992. Have had problem with skin cancer since 1987 while still on active duty. Can't get disability for that.
I have not been treated for exposure yet. Although, I have mentioned that I have been assigned to areas whereby toxicants may have been used, I have yet to be screen for them.
Currently only assist in medical problems that are related to service connected disabilities. Would not replace shoulder so went outside to civilian care. Currently hip needs to be replaced VA stated not enough arthritis but civilian doctor insist that hip needs to be replaced because injections are not working and pain is increasing. Currently taking pain medications not dispensed by VA.
Currently dealing with them for Agent Orange problems.
It took me 19 years of battles to get a settlement I was 40 % disabled after service because of the unexplained maladies got a 70% for PTSD and only rate 80% overall and 20 % for unemployable.
THEY SUCK!
They do not understand the Atomic Issues related to Enewetok cleanup.
I have many slide pictures of early Lojwa also two short super 8 films of early Lojwa.
None.
No experiences.
They would help they say but no money has been allocated.
Not at this time.
They want to deny everything.
All agree Islands have something to do with Health, but refuse to state it on paper.
I have had good care at the clinics. I have had Terrible care at the VA hospital. I am also being billed for co-pays. Should not have to pay these. I was delayed two and a half years by a doctor that kept trying to treat the left side of my body, when I kept telling her that the pain was on the right side. She never ran any tests and told me I had Diverticulitis. Two and a half years later, I just happened to be seen by another doctor. He sent me to emergency within three minutes of my exam for a emergency Colonoscopy. The next day I was in surgery having a Tumor removed. Then when my Oncology started at VA, they stopped all my scans, tests and check ups. The Doctor was rude and he told me that I didn't know what I was talking about. I was under the impression that my care officially stopped on that day. I left his office angry and I told him that I would not be back. I would seek private care. I then submitted a request for care outside the VA system with a doctor or facility that I choose. Feel that VA knows what they did to us, they ignore us and they are waiting for the ill ones to die. They save a few bucks for their bonuses. I am sick of being up to my neck in paperwork and having to send documents to twenty different places, all while waiting for the return of the document, just so I can include it in my case. Which has been denied twice now already and I am on my third appeal. This is Pure B.S. in my opinion. But overall, my entire family suffers and I feel that the DOD is responsible. I have a lot of proof, Nexus Letters etc. Everything seems to point to EXPOSURE.
Very poor at best!
I fought with the VA back in the 90's and got nowhere.
Deliberately misdiagnosed, had to fight for care. Post diagnosis 2-1/2 year wait for doctor visit. Ignored gastrointestinal issues (cancer). Put on wait-list. Sexually assaulted by a VA female doctor on a grudge. I tried to report it 6 different times but was continually ignored. Sent to classes for PTSD, after third week denied further classes or help of any kind due to being classified as a non-combat veteran. No help with PTSD and no charges brought against doctor for sexual assault. Continually over medicated by VA doctors that no civilian doctor would ever allow. Medications continually counteracted against each other and no consideration for extreme weight loss post surgery. Same dosage level are currently being prescribed. Too many other issues to list. Continually denied disability claims. Continually charged exorbitant fee's for medical and prescriptions.
Working on it.
Not had much.
They are in denial. We did not exist.
The VA @ Newington were very good to me. I am 100% disabled (Agent Orange) and unstable Knees from RVN. I did all the paperwork by myself, and the procedure went pretty well.
I am 20% disabled due to other injuries.
Most of my fellow patriots of the Enewetak Atoll Atomic Debris Cleanup Mission served while in our US military and they have honorably received the Humanitarian Service Medal for their work in Enewetak. I am one on many civilians that also served and exposed myself to much of the same danger, hardships and the same radioactive exposures. This is the information about the civilian equivalent; "The Civilian Award for Humanitarian Service is presented by the Department of the Army to individuals who exemplified themselves with meritorious direct "hands-on" participation in an act or operation of a humanitarian nature. This award can be approved by any commander at the major Army command level or higher after the Secretary of Defense designates an operation or act to be of Humanitarian nature." Any assistance or guidance would be appreciated, thanks.
I do not know if I qualify I have no private Health insurance I am Homeless and living with relatives my mother sister is letting live and board at her residence for now.
Negative.
Not understanding or helpful.
For about 20 years we here in Alaska had pretty good service with the VA. In the last couple years they had a problem keeping doctors up here. Seems like every time I had an appointment with a doctor it would get canceled because the doctor is no longer there. For the time being I'm being referred to a doctor in a local hospital.
Primary Care physician missed the opportunity to reevaluate low blood cell counts 4 months before Leukemia was discovered.
Broke both ankles one in Navy one in Army, tried to get compensation was refused. Also refused V.A. Card.
Tried to get my hearing problem rated, unsuccessful.
Don't care about Enewetak Clean Up Project.
So far vary good. Diabetic and heart issues.
I have had private insurance for quite sometime but now that I am using the VA I am OK with them. But getting in to see a specialist takes some real patience and time. I do appreciate the way they care for me and its usually very thorough and appropriate. I am considering hearing aids as my left ear hearing is about gone and the right is taking a turn for the worse. damn hard to concentrate with the tinnitus. Very extremely annoying. From my days of never ending watches in the boiler rooms of US Navy warships.
Very good, helpful and prompt in health care, and review of VA claim, pending approval. Conducting a GoFundMe campaign at www.gofundme.com/forjeffrey to help while my VA and SSA claim are reviewed. Any help from fellow soldiers would be appreciated.
No contact yet.
Useless. Cannot get 2 aspirins from. They plea Category 8 to me.
I always get a new reason why I don't qualify for benefits and/or treatment. I am currently disabled but my LTD Company, The Hartford, stopped my pay on 2-5-2014. So I went back to the VA and told them "OK, I didn't qualify before because I made too much money now I make ZERO. They said I made too much last year so I still DO NOT QUALIFY!!!
Haven't even tried.
VA assistance very poor.
Interesting enough; I have had very good experience with the Raleigh, NC CBOC and the Durham VA medical teams. The Durham VA shares many members of the medical team with Duke University hospital and therefore has excellent resources. I am recovering now from surgery to remove a cancer from my eyelid and they called in a plastic surgeon to make it look good. I have not tried for any disability or any other VA benefits so I cannot comment on that.
NO ISSUES.
All good to date.
Still fighting.
Have 80% service connected disability but nothing related to Enewetak, or Gulf War.
N/A.
So far all contact has been positive. Looking for copy of or original medical records for examination.
My experiences with the VA has been outstanding. I never had any trouble w/ the VA in Newington, CT. I have been retired from the US ARMY and I am 100% disable because of Agent Orange. I feel that the VA (depending where) are doing what they can with what they have. VA is like a big corporation and that is you will always have a group of bad apples.
Evasive.
The VA and the VA Health System still denies and delays any treatment for Atomic Poisoning from Eniwetok.
None. No experiences.
I was fairly lucky as I had limited dealings with the VA. The State of Florida (SoF) has state employees who work in their Dept of Vet Affairs. The first day I met with their Claims Examiner, I signed a power of attorney over to them and they became my go-between with the VA. I received one letter from the VA (even though they said they sent two) and all I did was call the SoF Claims Examiner and she answered everything. While I didn't have any problems with the VA as I've heard of on the news, They did supposedly send me a letter (which I never got) which said I had 30 days to answer or my case would be closed. I happened to go on line and check the status of my claim, saw the status as "awaiting reply from claimant for more information" or something similar. I called the Claims Examiner on about day 25 and asked what they were waiting for. She told me the VA had sent a letter…etc…etc…etc…. the Examiner sent off the reply online.
Spinal cord clinic.
Was told these are not problems now.
No Problems.
Have had as good care with VA as I did at Kaiser, can't complain at all I have 20% connection for tinnitus and hernia scars.
Claim pending but no recondition for this exposure.
Very slow at first then little better in last year (2014/15).
Turned down twice for service connected disability.
Currently 80%, VA service-connected total disabilty, for other health problems and various musculoskeletal bone diseases.
Been trying to deal with this going on 32 years they finally said after this long to grant me 80% percent but will except what I did at the atoll as we had no dose meter or badges but in my defense ships radiation detection equipment was not hooked up at the time! Our Captain worked for before taking command was Director of Plans and Policy, and Estimates for the Director of Naval Intelligence and the XO in 1977 reported aboard from Defense Nuclear Agency Field Office Albuquerque, New Mexico then left in the middle part of the cruise?? with all this command talent for nuke and cloak and dagger you would have thought we should have had badges and at least told US aboard hot nuke HOT it really was that WAS not told to us only that it was a ww2 battleground and a place just a small amount of testing went on !!! 43 NUKE TESTS IS NOT SMALL!! LIED TOO FROM THE START!!!
When applying for ionizing radiation claim, your file just sits for months and months, no action that's why I resubmitted without this claim. Also when in the military I had routine quarterly, then semi annual, then annual check-ups and tumor registry followed me, the VA only checks if/when you ask and then only if you are aggressive.
Not that bad but don't really seem to care about radiation things.
I am lucky to have one of the best VA healthcare facilities in the US available to me. I use the Lebanon Pa. Healthcare facility.
Mostly ok but they don't really seem to concerned with radiation issues.
None yet.
They Suck!!!!! They have deaf ears…
Some good. Some bad.
Have to jump through hoops and threaten to go to local government officials like congressmen etc for assistance to get anything done.
I am currently rated at 90 percent disabled by the VA.
Have had good relations with VA in Idaho, and Washington regarding health care and medical issue review.
Still a work in progress.
Vermont had a heart attack in May of 2008, had no health insurance, was told I have to wait 3 days for a bed in a VA unit near Boston for my cardiac cath. Cardiologist in Vermont didn't think I should wait 3 days so I elected to go to Albany Medical Center which I had to pay for. In Maryland I fell and hurt my back. Waited 3 days to get to see my doctor. He have me meds. After a week still in pain he said I could drive 2 hours to Baltimore to get an X-ray. I fractured L1 vertabrae.
Very slow.
Didn't feel the need to see them.
READ POST ON PAGE THEY HELP MEDICALLY JUST THAT ONLY AS FOR AS COMPENSATION BEEN FIGHTING THEM FOR OVER 32 YEARS FINALLY IN 2013 WAS AWARDED 80% PERCENT AND STILL FIGHTING FOR THE LAST 20.
Well the veterans have simply turn their backs on it. I can't get help with medicine. I can't go to the doctor and I am 100% disabled and have no money and can get no help at all.
I love my country, But fear my government.
I have had a good experience with the VA. Fortunately I have other healthcare insurance and those things that I can't get at the VA I go thru my private healthcare provider. Generally I get my flu shots and annual physicals at the VA. It was recommended that I have a skin cancer screening and the VA has only one dermatologist. So the wait time was at least 6 months. I ended up going thru my family doctor and getting my screening done. If I have any criticism of the VA it would be not referring to outside providers to get health issues resolved rather than depending totally on in house resources. This causes too much delay.
No comment.
I'm currently my VA medical benefit for all my health care. Based on my service benefits. But I want to have this Enewetak duty evaluated due to I believe my tour of duty on the atoll had a lot to do with my health issues I have been dealing with since my young age of 26.
Use the VA from time to time, experiences have been good so far.
At this point in time, nothing has been done, I was told on a few occasions when checking about the radiation cleanup operation that if I didn't have symptoms from cancer there wasn't anything being checked. So that is where I stand at this time.
I've not had much of a problem except the appointments are a month and a half to 2 months or longer
Good.
I have been fighting for 100% since 1985.
I have been with the VA since I retired from the Navy on 1 February 1992. I have received excellent care from the Va.
Frustration at times.
As you can see from our roster survey, Atomic Cleanup Veterans are having good and poor experiences with the Veterans Administration Claims Process .
We appreciate each and every Atomic Cleanup Veteran who helped us get a clearer view of our typical experiences with the Veterans Administration.
You can help us get better experiences with VA Health Care Claims by letting your Federal Representatives know you want them to support Hawaii's Rep. Mark Takai's Bill H.R. 3870 Atomic Veterans Healthcare Parity Act.
Continue to learn more about us from various resources shared by supporters and cleanup participants in future AtomicCleanupVets.com articles. Our articles contain photographs, videos, documents and stories shared by the actual participants who cleaned radioactive contaminated soils and materials from the surface of the islands at Enewetak Atoll.
Article written by Girard Frank Bolton, III. 1977-1979 (14 month) participant with C Company and HHC S-3 (Operations) 84th Engineer Battalion (Combat Heavy) (Fwd) Enewetak Atoll, Marshall Islands.

Our Current Mission is to help health challenged Atomic Cleanup Veterans become included in the Veterans Administration's definition of an Atomic Veteran so we can qualify to apply for funds set aside for veterans "who participated in radiation-risk activities during active service."